Healthy Hair Starts Here: Essential Haircare Tips You Need to Know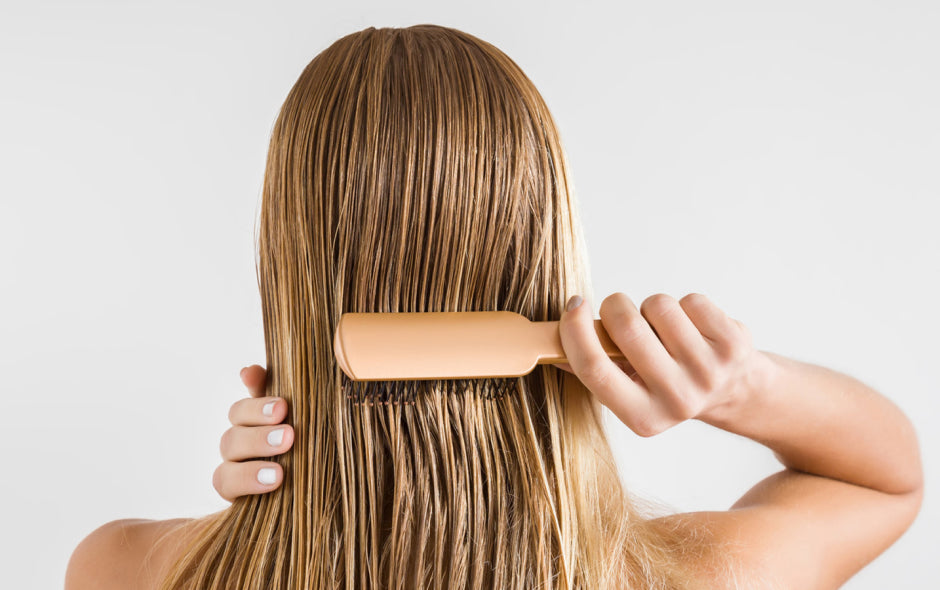 Whether you're a skincare enthusiast with a 12-step skincare routine or a busy mom who only has time for the essentials, we're willing to wager that caring for your skin is an integral part of your daily routine. And while most of us will happily invest in various anti-aging, moisturizing, and exfoliating facial products, for some reason our hair has been left out of the equation. Instead, we haphazardly pick up whichever shampoo and conditioner combo is on sale and complain to our hairstylists about how flat and dull our hair has been. Thankfully, much to the delight of hairstylists everywhere, the importance of haircare is finally getting the spotlight it deserves — and today we're sharing a few tips to help you get started on your journey to healthy, luscious locks!
Scalp Care Tips: Regardless of your hair type, the health of your scalp will always benefit from hydration. So, before you buy any new products, start by tracking your water intake to ensure you're adequately hydrating your body. Once your hydration is on point, you can start focusing on products that can be applied topically to improve the health of your scalp.
For those on a budget, skip the trip to Sephora and take a detour to your kitchen instead. You can use either olive oil or coconut oil as a nourishing lubricant for a luxurious at-home scalp massage. Adding this simple and affordable step into your weekly haircare routine will stimulate circulation and encourage healthy hair growth. But remember, your scalp is skin and requires the same balance of moisture and exfoliation to achieve optimal results. So, if you add oil or scalp serums into your haircare routine, you should also add a clarifying shampoo into the mix to help remove pore-clogging buildup that could hinder healthy growth.
Haircare Tips: Now, if you're spending time and money improving the health of your scalp, you'll want to ensure the rest of your haircare routine isn't undoing all your hard work. First off, trade in that drugstore shampoo and conditioner for salon-quality products. While we understand this can be an investment, most drugstore shampoos are filled with drying ingredients that can actually damage your hair. So, although salon quality hair products are pricier, they're an investment in better hair — and the returns (nourished, shiny, more manageable hair) are well worth the price tag in our books.
Next, you're going to want to ditch that teeny tiny towel you "accidentally" took home from the gym and dry your hair with a cotton t-shirt instead. Why? Well, towels have a coarser texture than cotton, which allows them to absorb more moisture. Unfortunately, this same coarse texture can weaken the strands of your hair, causing them to fray and look frizzier, which is the opposite of what we're aiming for here. So, toss in the towel (literally) and apply a leave-in conditioner to nourish and prepare your hair for the next step, styling!
Styling Tips: Blow-drying (on high heat) and using heated styling tools too often damages the integrity of your hair follicles, which can ultimately lead to split ends and breakage. Unfortunately, even the most expensive hair masks and oils won't be able to undo this type of damage, but there are a few ways you can achieve the same results while protecting your hair from the heat.
For starters, always, always, always apply a heat protectant before applying any form of heat to your hair. These inexpensive sprays prevent high temperatures from damaging the structure of your hair and create a shinier, smoother look — making it an essential part of every haircare routine. Another great way to prevent damage is to try out overnight heatless styling methods like curlers, braids, and curling rod headbands. With so many tutorials online, there's an overnight styling option for everyone, it just might take a bit of trial and error to figure out the best method for you.
Now, don't shoot the messenger but, those extra tight, slicked-back buns and ponytails aren't doing your hair any favours either. The tension required to achieve these looks puts an incredible amount of pressure on your hair, which can lead to breakage and even bald spots (just ask Kourtney Kardashian). To prevent this type of damage, channel your inner 90s girl by using gentler hair accessories like scrunchies and claw clips to hold back your hair. But do yourself a favour and leave those painful spiky headbands in the past (trust us, they're not worth it).
While no one is immune to the occasional bad hair day, implementing a gentle and nourishing haircare routine will help reduce their frequency. So, the next time you feel the urge to splurge on a new skincare product, steer yourself over to the haircare section instead — you might just be surprised how beautiful your hair can be with the right nourishment.