Get Organized for the New Year with Better Living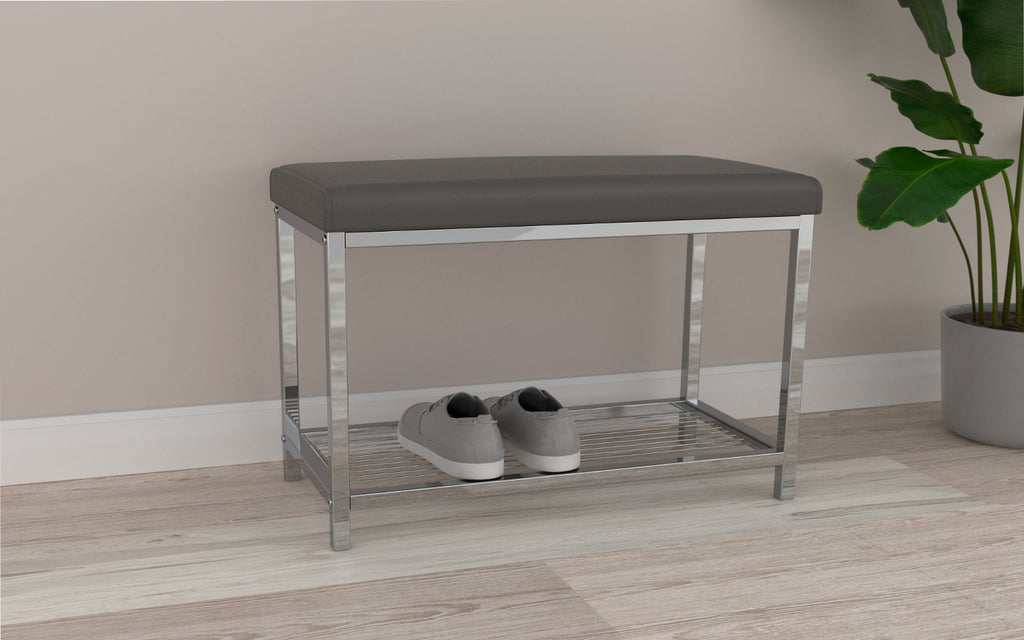 Lately, New Year's resolutions have become a bit of a hot-button topic. While some view the New Year as an ideal time to set goals in hopes of bettering ourselves, others see resolutions as difficult to maintain, which can set us up for failure. Regardless of where you stand on the topic, it's hard to deny the fresh start that accompanies the dawn of a New Year. So, if you're hoping to start the New Year with a clean slate, we've got a few products to help you get there.
MODERNA Extra Wide Vanity Seat: For luxurious storage the MODERNA Extra Wide Vanity Seat is a beautiful addition in your home. Whether it's in the bathroom, bedroom, entryway or mud room, this seat provides comfort and convenience while complementing all types of décor. The bottom wired shelf provides extra storage for towels, shoes or slippers and the nylon feet ensure your floor remains free of scratches.
KROMA STICK N LOCK+ Hair Dryer Holder: Once all your beauty products are neatly stored away, your hair tools are going to look terribly out of place. Take a page out of your hairstylist's book and grab one (or two) of our KROMA STICK N LOCK+ Hair Dryer Holders. While it's designed to store a hairdryer, it can serve as a place to safely cool or hang your hair straightener too. Choose to install it on the side of your vanity or inside a cupboard and in just a few minutes you can reclaim your counter space and give your much-loved hair tools a new home — no tools required!
AVIVA Shower Dispenser 3 Chamber: Next to the vanity, the shower is usually the most cluttered place in our bathrooms, so let's change that! Our AVIVA Shower Dispenser 3 Chamber neatly stores and dispenses your favorite products while also providing hooks for your bathroom accessories. This model was designed with individual chambers that easily lift off for refilling (and cleaning) since we all know it's impossible to run out of shampoo and conditioner at the same time. Available in Satin Nickel or Chrome, this multi-functional dispenser will ensure you don't start off the New Year with a cluttered shower floor — and we love it dearly for that!
LINEA Luxury Shower Basket and Squeegee: Our LINEA Luxury Shower Basket and Squeegee holder provides even more storage for smaller or infrequently used products. We love how this model allows us to neatly store indulgent products like hair or face masks and comes with a spot to hang our coveted shower squeegee. Its show-stopping crystal-inspired design and functionality simply can't be beat, especially when paired with our line of LINEA shower dispensers.
HiRISE 4 Tension Shower Caddy with Mirror: Sharing a bathroom with more than one person? Then you need the HiRISE 4 Tension Shower Caddy with Mirror. This model extends up to 9ft to fit most showers and tubs. Its four large adjustable baskets provide unbeatable storage, while the inverted bottle holders ensure you get every last drop out of your products. Plus, its fog-resistant mirror and storage clips make in-shower shaving or facials a breeze. What more could you ask of a shower caddy?
While 2021 may not have gone quite as we had planned, we'll continue to prep for the year ahead by reorganizing our homes (and lives) and welcoming the opportunity for a fresh start in 2022. Happy New Year, everyone!