Freshen Your Bath The Natural Way With Holiday-Inspired Essential Oils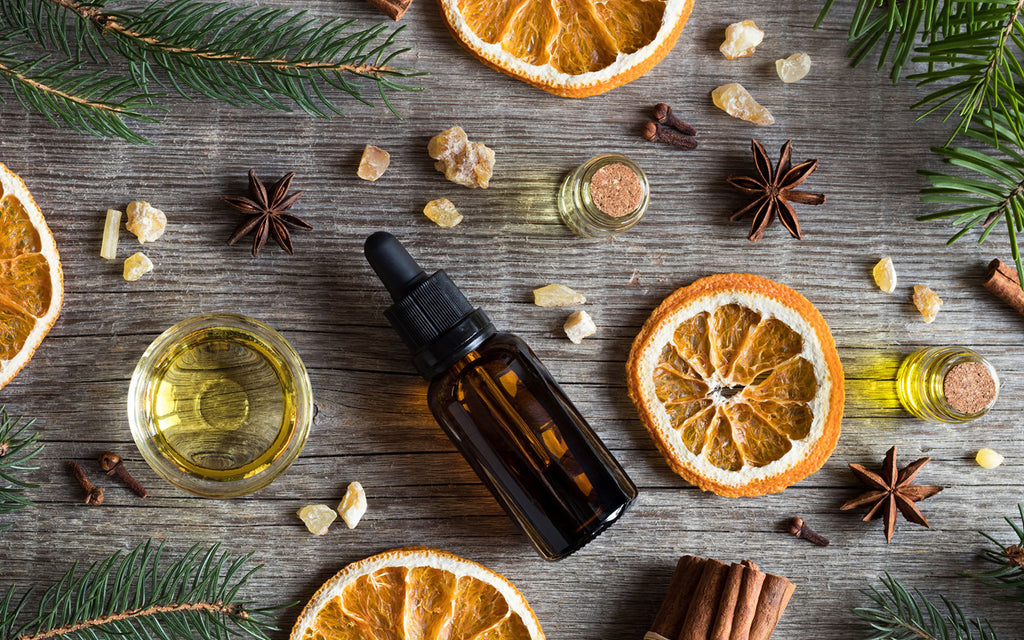 A whiff of fresh holiday scent can add a special touch to your home and bath — especially when company is coming.
Derived from plants and other botanicals, essential oils offer a pure and natural way to please your senses and bring a homey holiday touch to any room of the house. We love essential oils because they smell like the real deal — not like those chemical, over perfumed, headache-inducing concoctions found in aerosol sprays.   
The beauty of essential oils is you have the freedom to design your own special holiday blend. To get you started, here are three approaches to creating your concoctions:   
With peppermint as the foundational scent, add drops of vanilla or citrus (such as orange or lemon). Drops of rosemary can give that fresh breath of mint a surprising uplift.
If you'd like to create a Christmas tree concoction, give it depth and complexity by using a blend of conifer scents, like fir, spruce, pine and juniper. To this, you can add notes of orange, cedar, wintergreen or even vanilla — whatever strikes your fancy.
Or you can focus on those warm baking spices we all love. Make orange or cinnamon the base, and add drops of ginger, clove and nutmeg.
How can you use essential oils to spruce up your bath during the holidays? Here are a few ideas.
Set up a small vase with 20-30 drops of your favorite essential oil blend, and add two reed diffusers. Each time you enter the bath, flip the sticks around so they can release their freshness into the air.
An electronic diffuser that comes with a soft light can both freshen up the bathroom and add a guiding light.
Create a homemade bathroom spray by combining water and 15-20 drops of essential oils in a spray bottle. Attach a pretty label and display it on the vanity so your guests can clear the air.
To the inside of a tissue paper roll, add one or two drops of your favorite oil. With each turn, it will release a subtle scent.
Add 10-15 drops of your favorite blend to unscented liquid hand soap. For a sleek and stylish update for the vanity that will also help you keep those winter bugs at bay, opt for a stainless steel CLARA Foaming Soap Dispenser from Better Living.
Essential oils are a versatile way to keep any room of the house clean and smelling fresh. With a little creativity, you can set the right mood with your own custom blend.