Choosing the Right Finish for your Bathroom Accessories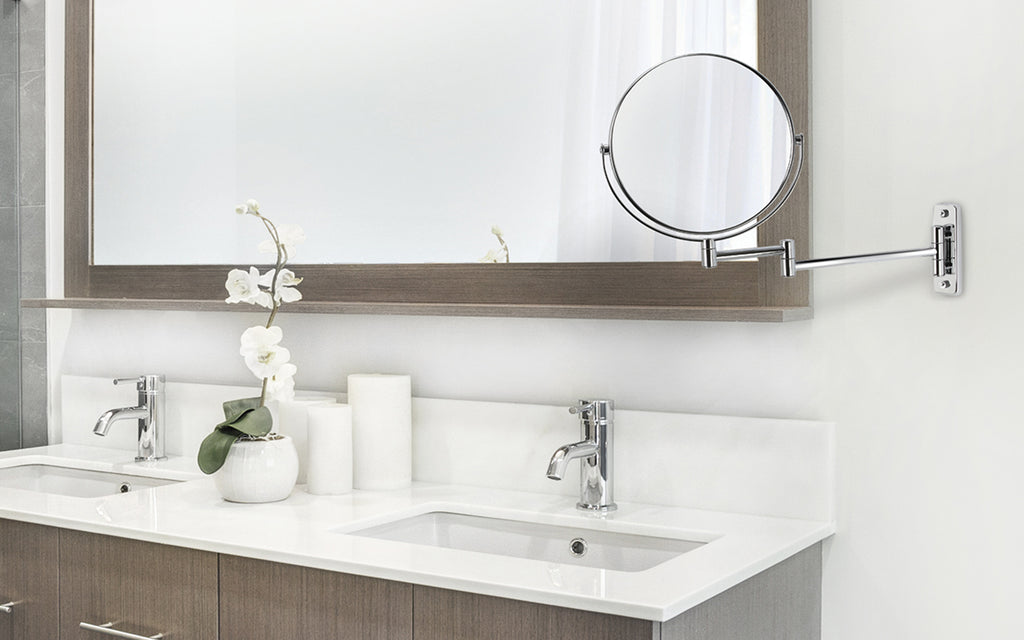 Chrome, chrome, and more chrome
If you have a limited budget, chrome is the best choice.  Chrome plating is long-lasting, easy to clean, and goes with pretty much any colour scheme.  Chrome is also a great choice because it is much easier to find a variety of accessories with matching chrome finishes than any other type of finish.  If you are giving your bathroom a makeover, make it easy on yourself and go with chrome. A chrome shower dispenser, squeegee, and cosmetic vanity mirror will give you the refresh you're looking for.
Stainless Steel
Stainless steel is a great choice for a higher end look and feel and is rust resistant to ensure your accessories will continue to look brand new for years. If you are going to be making a permanent commitment to a shower caddy, it may be a good idea to choose a product that is made of stainless steel. The STORit line of shower baskets is elegantly designed to complement any décor and features the quality and durability of stainless steel.
Silver Gloss
Silver gloss is the second-most popular bathroom accessory finish.  It is a misnomer as it is not only not made of silver, but also not made of metal as well. Rather, it is crafted of durable ABS plastic with a high grade paint and luxurious high gloss finish.
However, silver gloss accessories disprove the old myth that plastic can't look as good as metal.  Silver gloss is slightly less reflective and more matte than chrome, creating a cleaner, less distracting look.  A whole set of accessories in silver gloss work to accentuate, instead of distract from, other bathroom features.
With the modern line of Curve Dispensers, silver gloss is designed to prevent water and soap stains from building up. Silver gloss is not as expensive as higher-end metal finishes. However, it is a surprisingly great choice for redoing your bathroom accessories on a budget.
Higher End Finishes
More expensive finishes include the metal finishes of nickel, brass, and bronze. All of these finishes are most often used on bathroom and shower faucets.  The Bath Boutique line of premium shower baskets has a chrome finish on solid brass that is guaranteed to remain rust-free forever!
White Plastic
There is nothing wrong with white plastic.  It has a clean look, cleans easily, and goes with everything.  If you and your houseguests don't have discerning tastes, there may no reason to go for anything flashier.  However, you should still try to buy quality white plastic bathroom accessories, like the Euro line of shower dispensers that look good and will last for decades.