Combat Your Dry and Dehydrated Winter Skin with These Viral Skincare Techniques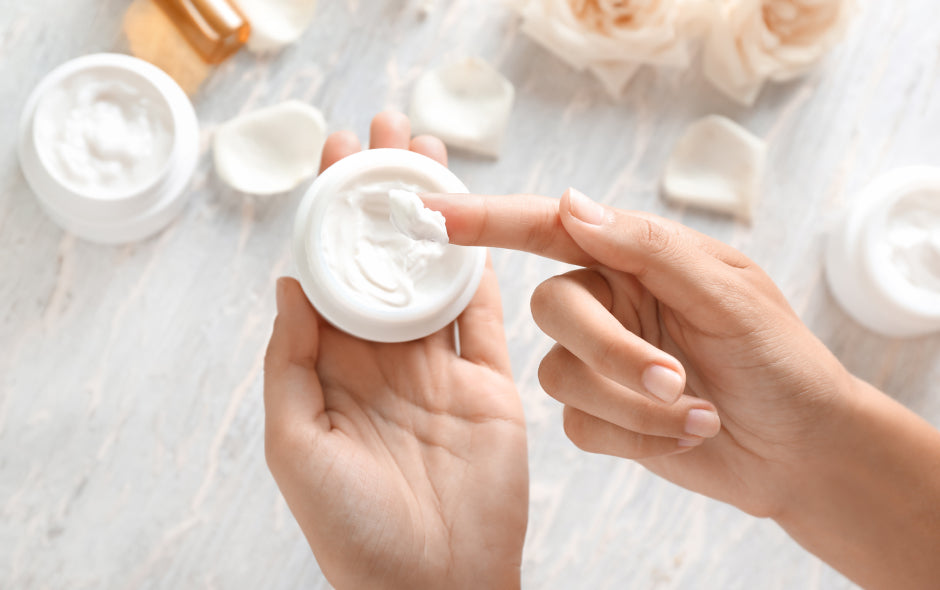 Around this time of year, sub-zero temperatures, indoor heating, and the lingering effects of overindulging over the holidays prevent us from entering the New Year with a fresh dewy glow. While there's not much that can be done to mitigate the drying effects of the weather (and the need for indoor heating), adjusting your skincare routine with a focus on gentle exfoliation and hydration will give your skin the extra TLC it craves. But, as anyone who has experimented with chemical exfoliants and/or retinoids knows, there's a fine line between not exfoliating enough and over-exfoliating. Admittedly, we've stepped over that line a few times ourselves and know how difficult it can be to rebuild your skin barrier. So, we're sharing two tried-and-true skincare routines that will keep your skin barrier firmly intact and sufficiently hydrated all winter long.
Skin Cycling: Popularized by board-certified dermatologist Whitney Bowe, MD, skin cycling is a four-night skincare routine that provides all the anti-aging benefits of a retinoid without stripping your skin barrier of its much-needed moisture. While a four-night routine may seem complicated to some, the process is surprisingly easy to master — and goes a little something like this:
Night 1 – Exfoliation:  Now, if you have dry or sensitive skin, the idea of exfoliating the day before applying a retinoid may sound like the prequel to a damaged skin barrier, but there's a method to this madness. Sloughing off that layer of dry, dead skin the day before your retinoid, allows it to work its magic unencumbered, which means it'll be more effective. Just be mindful when selecting your exfoliant, as sensitive and dry skin types will require a gentler exfoliant than oily or acne-prone skin. Once you've found a product that works for you, apply it after cleansing and follow with the moisturizer of your choice.
Night 2 – Retinoid Treatment: On night two, it's time to unleash the anti-aging, acne-reducing, hyperpigmentation-fading powers of a retinoid. For those new to retinoids, it's crucial to start low and slow to protect your skin barrier. Dermatologists recommend starting with a retinol with a concentration of 0.25-0.5 and building up from there. Wash your face, apply a thin layer of moisturizer (if you have sensitive skin or are new to retinoids), and allow your skin to dry completely. Then, using a pea-sized amount, apply several dots of your retinoid across your face to ensure it's evenly distributed. Smooth the product into your skin and finish with another layer of moisturizer to lock it all in.
Night 3 and 4 – Recovery: Since retinoids promote the turnover of cells, your skin will be extra sensitive, so for the next two nights we're keeping it simple. For optimal recovery, avoid cleansers with active ingredients or exfoliants and reach for hydrating products with ingredients like hyaluronic acid, ceramides, and glycerin instead. Remember, these nights are as much about recovery as they are preparation for the next cycle — so stick to the script!
Slugging: This next skincare routine went viral on TikTok, with countless skincare enthusiasts showing off their glazed donut complexions. While it may sound gross, slugging is simply the process of applying a heavy occlusive (like Vaseline or jojoba oil) on top of your moisturizer to lock all that hydrating goodness in place. The occlusive essentially acts as a protective barrier against the elements, preventing dry winter air from pulling moisture from your face. Those with oily or acne-prone skin should keep in mind that it's possible for dead skin cells and oils to become trapped beneath the occlusive too, which can lead to breakouts. So, use it only when your skin is severely dehydrated or following a harsh chemical treatment for optimal results. We personally like to incorporate slugging into our skin cycling routine on nights three and four to lock in all those deeply nourishing and hydrating ingredients.
Whether you're a skincare enthusiast or a novice in desperate need of winter hydration, these skincare techniques will ensure your skin is nourished enough to take on whatever mother nature has in store for us this winter.