8 Summer Essentials to Add to Your First-Aid Kit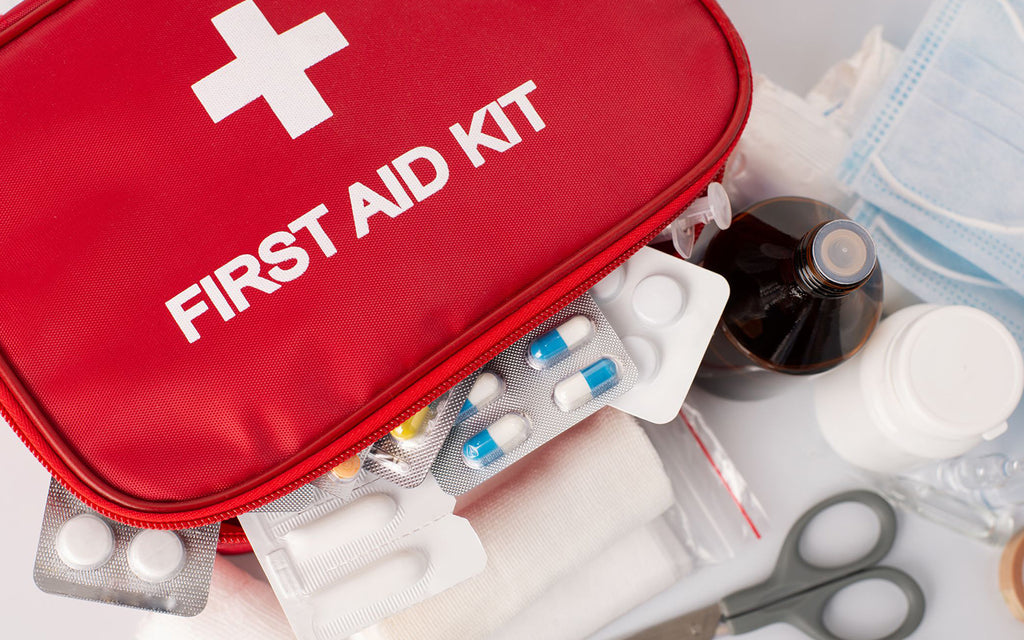 If you've been stuck at home during this past heatwave, you're likely feeling the itch to get out of the city to explore the great outdoors – and we're right there with you! This year's summer break is so close we can taste it and we cannot wait to take part in all the fun outdoor activities that Summer has to offer. Before we hit the road, we always take a minute to prepare for the unexpected because let's face it, nothing ruins a vacation faster than a trip to the Emergency Room. Pre-made First Aid Kits are a necessity and include most of the items you'd need in an emergency, but it never hurts to have backup. So, we've compiled a list of summer-specific essentials to ensure your First-Aid Kit doesn't let you down.

EpiPen: This one is a non-negotiable, especially if someone in your family suffers from severe allergies. However, even if no one in your immediate family suffers from allergies, a friend or neighbour might and an EpiPen could save their life. So, if you regularly have guests up to your cottage, having an EpiPen in your First-Aid Kit is an absolute must!

Benadryl: For non-life-threatening allergic reactions, Benadryl can't be beat. Not only does it work wonders for allergic reactions to bug bites and stings, but it can also help soothe seasonal allergies. Plus, it's safe to use on dogs (in smaller doses), making it one of the most versatile and effective summer essentials on our list!

Hydrocortisone Cream: While we instinctively scratch our itches, this can actually lead to secondary infections, so having something that soothes the itch is a must – especially for little ones who just can't help themselves! Nothing soothes the itch better than a squirt of handy dandy hydrocortisone cream, so make sure you stock up before you head out.

Distilled Water: If the tap water at your cabin comes from the lake you shouldn't be using it to clean wounds. Instead, pick up some distilled water to safely clean open wounds without the risk of infection. Although boiled and cooled water can also be used, in emergent situations it's important to have clean water at the ready, which is why we're big fans of distilled water. Don't forget to apply an antibiotic ointment such as Polysporin to prevent infection, once the area has dried.

Electrolyte Packets: Hot summer days can often lead to heatstroke, so in addition to water, it's always nice to have some electrolyte packets on hand for added hydration. These packets are commonly used by athletes and have been shown to hydrate better than water alone. As a bonus, they usually taste like juice or Kool-Aid, which can help you get some extra hydration into your little ones!

Dramamine: If your summer vacation includes boating (or excessive partying), don't forget to pack some Dramamine. Regardless of why you may feel queasy, Dramamine (also known as Gravol) helps to calm the stomach so you can get on with your day without carrying around that dreaded puke-bucket.

Tick Kit: There's nothing worse than not being able to find what you're looking for in an emergency. Enter the tick kit, a kit that contains all the tools you need to safely remove a tick and treat it all in one place. Although your First-Aid Kit may have most of the items included in the tick kit, we like the convenience of having everything neatly in one place – especially tweezers which tend to go missing out of every First-Aid Kit we've ever had.

Pain Killers: Regardless of what causes you to reach for your First-Aid Kit, most emergencies come with a side of pain. Whether it's a throbbing headache from being in the sun or an unintentional waterskiing injury, having pain killers (like acetaminophen or ibuprofen) on hand can help you manage the pain, so you don't have to miss out on the fun.

Whether you're headed to the cottage or vacationing in the city, adding these summer essentials to your First-Aid Kit will ensure you are prepared for the unexpected – and give you the peace of mind needed to finally relax.