6 Ways to Infuse Your Powder Room with Style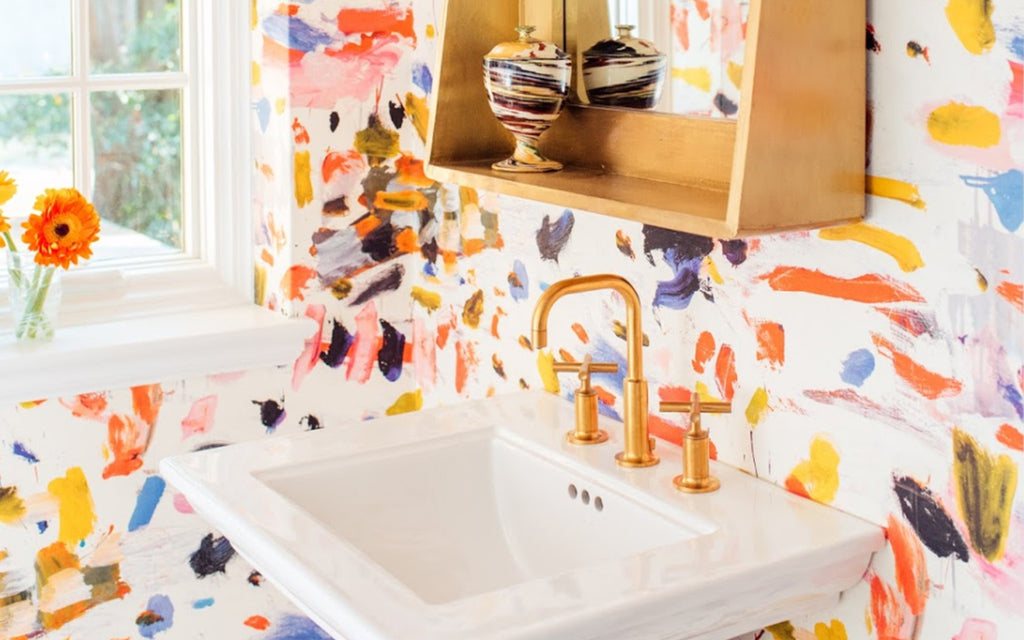 Often overlooked as our tiniest bathroom, the main floor powder room rarely lives up to its full potential — until now. Just because it's small, doesn't mean it can't be a design focal point in your home. In fact, your powder room can be the perfect place to showcase your bold side or experiment with quirkier designs. If you've been thinking about updating your powder room, these tips will help you make it the showstopper it deserves to be!
Splurge on Materials: While the tiniest bathroom in your home may seem like a bore to style, it's actually our absolute favourite! Because of its smaller footprint, you can splurge on materials you wouldn't be able to use in larger areas of your home. So, if there's a luxurious material you've been eyeing, this is your opportunity to use it! A touch of elegance can go a long way and give your powder room the 'WOW' factor it's been missing.
Sprinkle in Some Colour: Again, because the powder room is smaller, you can get away with being a bit bolder in your design choices. Plus, it's not usually the bathroom you spend a lot of time in or where you apply your makeup, which means you have a big opportunity to go bold! We love how a bold black accent wall makes a crisp white vanity, pop! However, if your bathroom is short on light, try a pop of peach for all the beachy, boho vibes.
Go Wild with Wallpaper: It's no secret that we love wallpaper and its unique ability to transform a space. But, what you may not know is that the powder room is one of the best places to use it! Unlike family or master bathrooms, your powder room doesn't typically have a shower or tub, which means you don't have to worry about your wallpaper selections withstanding excess humidity and moisture. While the right selection can WOW your guests, the wrong one can leave them feeling dizzy, so make sure you pick a pattern that complements your space. And don't forget, small patterns can make a room feel smaller — go big or go home!
Swap Out the Mirror: Another easy way to up-level your powder room is to replace the mirror. Most of our half-baths are home to a builder-grade mirror that is well past its prime. Installing a vintage or modern mirror in place of your existing one will replace the 90's sitcom vibes with the luxury of a boutique hotel.
Upgrade the Lighting: Lighting fixtures are generally one of the last things homeowners upgrade since they tend to blend into the background. But, that's exactly the point — we don't want it to do that! Replacing your existing fixtures with some bold modern pieces can totally transform your space, even if you don't change anything else. If you have a choice between overhead or wall-mounted, always go for wall-mounted – the lightbulbs are easier to change and the lighting is much more flattering.
Don't Forget to Accessorize: Last but certainly not least – let's talk accessories! It's time to ditch the potpourri (not to be confused with Poo-Pourri, which we very much endorse) and introduce some more modern touches. If you have a bit of counter space to work with, you can't go wrong with an elegant tray displaying your most beautiful products. Think: candles, hand lotion, and a neatly folded face towel. We also love using living room accessories in the main floor bathroom, like a woven basket to display extra toilet paper rolls. When it comes to accessories, the only limit is your imagination – have some fun with it!
Although your main floor powder room may not have the WOW factor of your master ensuite (yet), it has the potential to become of the most beautiful rooms in your home – all it takes is a little creativity and a sprinkle of style.