6 Ways to Elegantly Incorporate Black into Your Bathroom Design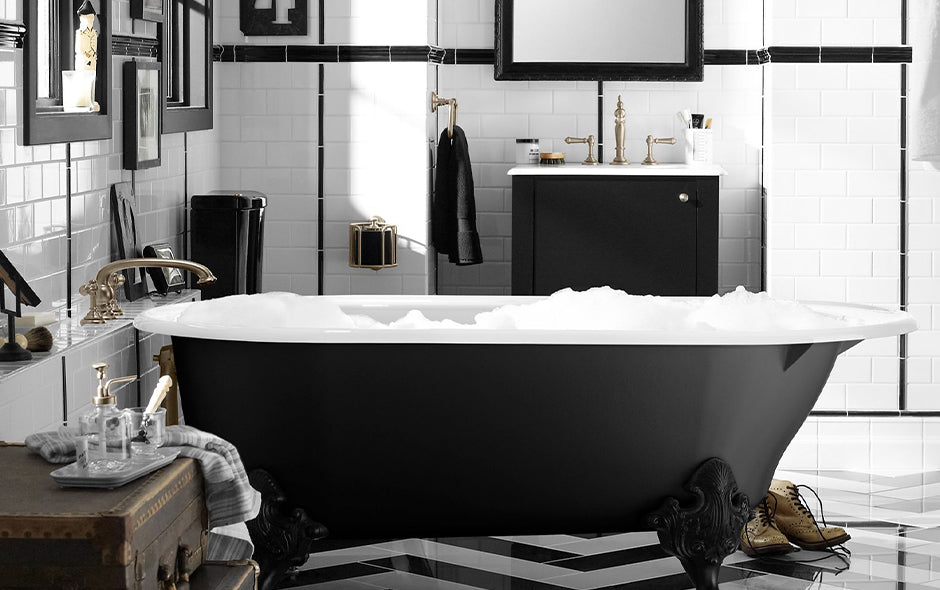 While fashion trends of the 90s have re-emerged as this year's dominant Gen Z fashion trend, one of the biggest interior design trends dates all the way back to the 1920s. Born in an era of pink sinks and pastel tiles, black bathroom accents provided homeowners with a more timeless and elegant option. Bold homeowners adorned their bathrooms with black fixtures (including black toilets), while traditional homeowners opted for a more subtle contrast with black and white checkered tile. Now, one hundred years later, black bathrooms are back and bolder than ever before. At Better Living, we're head over heels for this trend, but it has to be done right, especially in small spaces. So, we're sharing our top tips to help you elegantly incorporate this vintage trend into your modern bathroom design.
Go Bold with Monochrome: This style isn't for the faint of heart, but it certainly makes a statement. To embrace the inherent moodiness of the dark side, blackout an entire wall or corner of your bathroom. We're talking walls, window frames, and even your floorboards — don't worry there's a method to the madness here. While painting a wall black creates a statement on its own, it can fall a bit flat when paired with white trim, as it lessens the impact. However, when you blackout the entire wall, you create a richness and depth of colour that cannot be ignored. It is, what designers would call, très chic!
Create a Statement Shower: Another way to make a bold statement is to design an entirely blacked-out shower space. If you haven't seen a black shower before, a quick Google search will demonstrate just how showstopping they can be. While unconventional, there's something alluring about a dark, moody shower space. For an earthy feel, layer on the texture with different natural stone finishes or pair with a gold rain showerhead for celebrity shower vibes.
Make it Pop: While a monochromatic wall is rich and moody, an entirely blacked-out bathroom would feel like a cave, so we need to offset it with some white. Luckily, your porcelain bathroom fixtures will do most of the heavy lifting for you, but you can kick it up a notch by adding in other lighter accents too. For instance, a crisp white vanity set against an otherwise blacked-out wall will add dimension and make your gorgeous vanity pop.
Bring in Extra Lighting: Since black tends to absorb light, proper lighting is key to pulling off a black bathroom. Of course, this can be done with wall sconces or extra overhead lighting, but we like to think outside the box on this one. A relatively inexpensive and unique way to add some extra lighting is by using LED strips to illuminate the ledges or shelves in your bathroom. Not only will this help illuminate the space, but it will add a bit of ambience (and dark we say romance) to your evening soak.
Embrace the Bling: Another way to embrace contrast is to add a bit of bling. This could be as simple as replacing your existing plumbing fixtures with copper or gold. But, as always, we can take this concept a step further. For maximum impact and a hint of Hollywood glamour, consider replacing existing cabinet doors with brass ones. Over time, the brass will take on a weathered look, adding to your vintage-inspired black bathroom design.
Mix it With Marble: Nothing says elegant quite like white marble tile with grey veining, and it just happens to pair gorgeously with black. Add in a pop of brass and some greenery to elevate your bathroom design to that of a five-star hotel.
Although it can be tempting to dive into the latest design trends with both feet, it's always best to start with aspects that can be easily changed. So, if you're a bit wary about using black in your bathroom, start with paint (which can be inexpensively changed) rather than going all-in on a black vintage toilet. Once you've seen the colour in your space and feel comfortable balancing light and dark, you can make bolder choices without regret.