5 Ways to Incorporate Arches in Your Primary Bathroom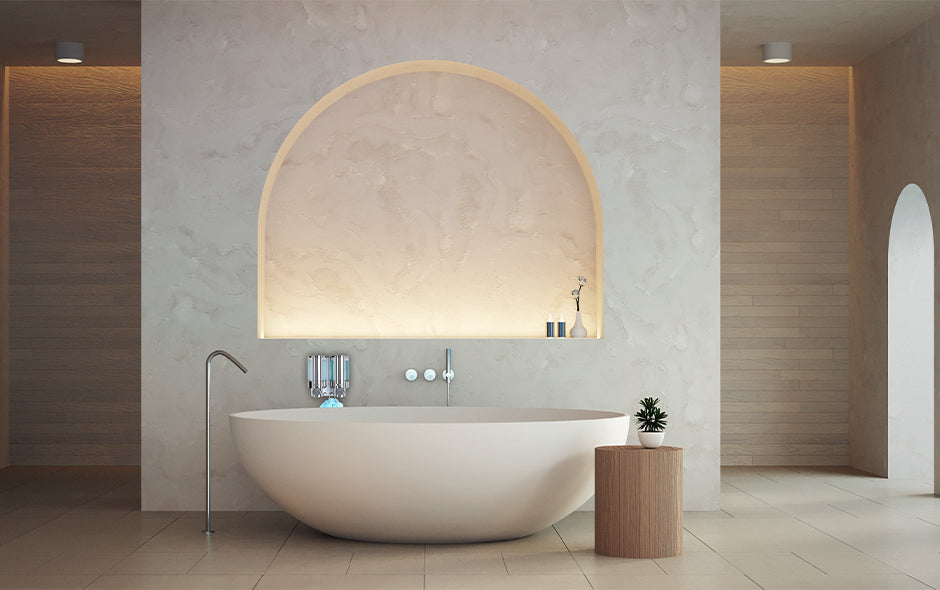 Chalk it up to two years of being unable to vacation in the Mediterranean or just good fashion sense. But, either way, arches are having a major moment in interior design right now. While homeowners typically reserve major design elements like these for their main living spaces, this design trend is perfectly suited for your primary bathroom too. In addition to being inherently romantic (thanks to their Mediterranean roots), arches also create the illusion of more space by drawing the eye up — making them ideal for bathrooms. So, if you've been eyeing this design trend and itching to implement it in your home, here are five stunning ways to do just that.
 Mirrors: Of course, the easiest way to emulate this trend is by replacing your existing vanity mirrors with rounded ones. If you're going for a minimalist earthy feel, pair a frameless arched mirror with a textured wall treatment. Alternatively, for a more modern vibe try a framed black oval option with exaggerated curves. Whether you currently have frameless builder-grade mirrors or rectangular framed ones, you may be surprised just how impactful this swap can be.
Storage Nooks: Now, this option requires a bit of construction, but the results are well worth it. Creating an arched storage nook will add the perfect amount of architectural appeal and functional storage to your bathroom design — and this option allows you to go big or small. For those who like to try out a design feature before fully committing, create a small arched storage nook beside your vanity. Or, if you're of the "go big or go home" mindset, create a showstopping feature by installing an arched storage nook behind your standalone bathtub. For even more visual appeal, add a bit of texture to the interior of your nook with an earthy material like wood or stone. This will add the perfect amount of contrast between your bathtub and make your primary bathroom feel like a Mediterranean-inspired spa.
Shower or Bath Enclave: Another showstopping way to incorporate an arch in your primary bathroom is by creating a cozy shower or bath enclave. To create a shower enclave, you'll essentially need to cut out an arched entryway in your wall and build your shower behind it. For an authentically Mediterranean feel, skip the glass door and tile your shower from top to bottom. Bonus points for using a floor tile with a pop of blue to emulate the tranquility of the Mediterranean Sea. If you're not ready to commit to a total renovation, you can create a similar look by replacing your existing shower door with an arched one. Although this option doesn't allow for a sliding door (and looks best on curb-less shower stalls), it provides comparable architectural appeal, at a fraction of the cost. Another way to incorporate an arched design is to create a recessed bathtub enclave. We love the idea of keeping the walls a soft neutral color and then utilizing a different flooring than the rest of your bathroom to really make your bathtub pop. Regardless of which option you go with, you'll be adding the WOW factor with an eye-catching architectural centerpiece.
Furniture: While many of us dream about remodeling our bathrooms with the snap of our fingers, it's never as easy as that. So, if you want to emulate these looks without a major renovation (or its accompanying price tag), bring in furniture of similar shapes. Consider an arched storage console in place of a built-in nook and shop for curved vanities and stools to emulate the architectural elements above. Regardless of your budget, you can find ways to replicate trending design elements — it just might take a bit more creativity and thrifting!
Paint: All other options aside, you can always test out how these shapes work in your bathroom with a little paint. Try painting an arch on the wall behind your tub to see if a showstopping enclave would suit your space. Or create smaller painted arches as a backdrop for your existing vanity or shelves. Utilizing paint is not only affordable, but it can also be a lot of fun. So, grab some paint and try it out — the great thing about paint is that it can always be covered up!
Whether you decide to go all-in on a bathroom renovation or experiment with a bit of paint, you'll be well on your way to creating a personal slice of the Mediterranean in your home — and we can't think of anything more luxurious than that.