4 Must-Have Products for Your Glam Station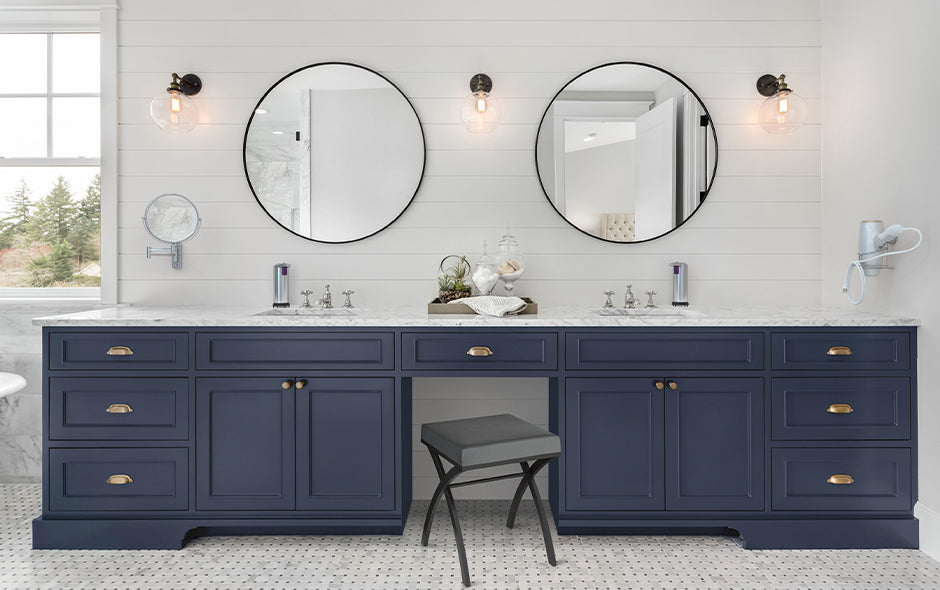 Let's talk about the most inconvenient places we've done (or still do) our makeup. Maybe you've awkwardly perched on the bathroom countertop with your feet in the sink. Or for lack of counter space, you've shuttled all your products into your bedroom to sit in front of a full-length mirror. Whether it's been a temporary inconvenience during a European holiday or a daily occurrence that you've simply come to accept, we've all been there, but no longer! At Better Living, we believe everyone deserves a comfortable place to sit down and do their skincare or makeup routine and we're here to help you create one of your own. With just a few key products you can turn your dysfunctional bathroom into the glam station of your dreams — and finally get your feet out of the sink and back on the ground where they belong.
TOUCHLESS Dispenser: Before you even think about touching your face, your hands need to be squeaky clean. Otherwise, you'll risk spreading acne-causing bacteria all over your face and there's nothing glamorous about that! While you could hop on over to wash your hands in the sink, it's possible that your hand towel may harbour hidden bacteria too. To avoid contamination of any kind, we like to use hand sanitizer before starting on our skincare or glam routine. That said, a bottle of drugstore hand sanitizer doesn't exactly embody the glamourous aesthetic we're going for, but luckily our TOUCHLESS Dispenser does. Its sleek and stylish stainless-steel design and touchless technology make it the perfect glam station companion. Just remember to let your hands dry fully before touching your face to avoid damaging your moisture barrier with the harshness of an alcohol-based sanitizer.
ONDA Vanity Seat: Of course, no glam station would be complete without a comfortable place to sit while applying your makeup. With its matte black finish and faux-leather upholstery, our ONDA Vanity Seat was made for the glam life. Whether it takes you five minutes or five hours to look your best, you'll be sitting pretty on its ultra-comfortable cushioned seat. Once your beauty routine is complete, the ONDA's compact design allows you to easily tuck it underneath your vanity and out of the way until its next use.
COSMO Mirror: If you've ever tried to perfect a cat eye or tweeze your brows, you know that sometimes your regular bathroom mirror just doesn't cut it. In these moments, our COSMO vanity mirror truly shines. Its double-sided swivel design allows you to maneuver it exactly where it's needed while the 5-times magnification side ensures you won't miss a single eyebrow hair in need of tweezing.
STICK 'N LOCK PLUS Hair Dryer Holder: Naturally, your glam routine wouldn't be complete without a little blowout, but constantly dealing with the tangled cords in your drawer of hair tools is beyond frustrating. Our Hair Dryer Holder eliminates the hassle of untangling your curling iron, hair straightener and blow dryer by giving your blow dryer a place of its own. Whether you like everything tucked neatly away or within arm's reach, its stick and lock technology allow you to easily install it anywhere you like. While its main purpose is to store your hairdryer, this beauty can pull double duty as a safe place for your straightener to cool off on days when you're in a hurry. Just remember to take a picture of it unplugged to save yourself that self-doubted fueled trip back home to double-check!
While we've all occasionally applied our makeup in awkward places, our daily routines should include comfort and convenience (not countertop crouching). So, if you've been putting up with anything less than the best, this is your sign to make your bathroom uniquely your own. After all, everyone deserves a little glam in their lives.