5 Quick Fixes for Bathrooms Without Storage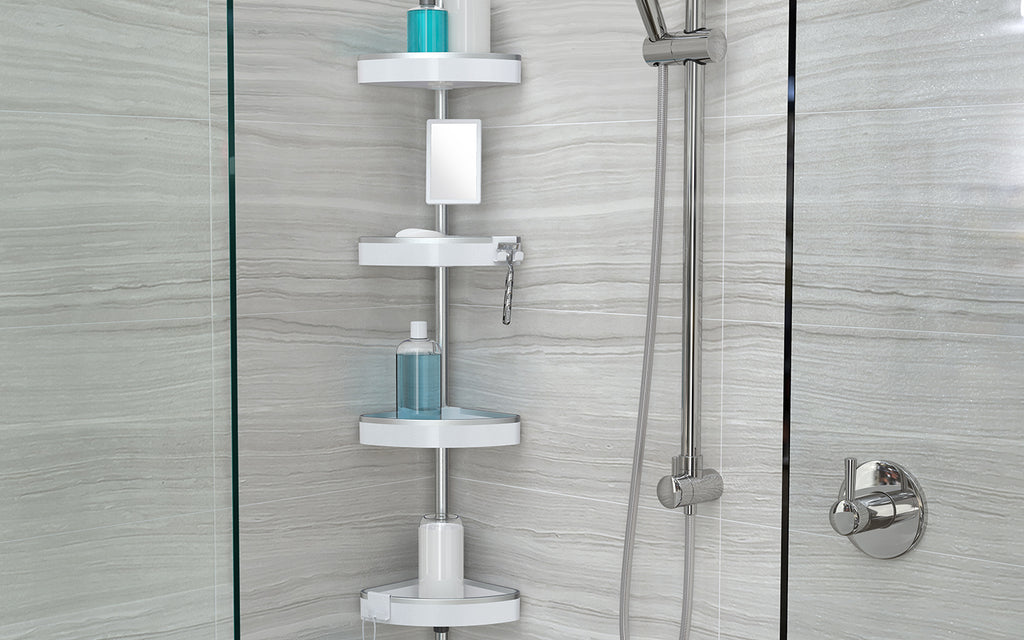 At one point or another, we've all wished we could reconfigure our bathrooms to be just a bit more practical. Between our beauty products, bath towels, and everything toilet-related there never seems to be quite enough storage space. Whether the cause is a less-than-useful pedestal sink or a bathroom that simply lacks storage, the challenge remains the same – we need more space! While bathroom renovations are sure to fix this problem, they are often expensive and time-consuming. So, where can one go for a quick fix to their bathroom storage issues? Better Living, of course! We've rounded up our five favourite products that provide storage and function so that your bathroom clutter can be a thing of the past.
1. Shower Dispenser: It's what we are known for, so naturally a shower dispenser is at the top of our storage-saving list! As we all know, the products we use daily (think: shampoo, conditioner, body wash, razors, and loofas) can quickly create clutter, especially when a shower is being used by multiple people. Since stepping into a cluttered shower in the morning isn't the best way to start your day, organization is key. Fortunately, with the right shower dispenser, you won't need to throw out your beloved products to create a less cluttered shower. One of our all-time favourites is the ULTI-MATE Shower Dispenser 3 Chamber. This affordable dispenser stores three different liquids, which allows you to eliminate three bottles of product from your shower floor. It also has an anti-fog mirror, hooks for multiple loofas, a soap dish, and a storage shelf. You can easily fit everything you need into this all-in-one shower storage system!
2. Hand Towel Holder: It's no secret that vanity counter space is prime real estate, especially in a shared bathroom. Counter space can become cluttered very quickly, easily store hand towels with the KROMA STICK N LOCK+ Towel Holder. When washing your face or hands have your favorite hand towel close at hand but not taking up space on your counter. Utilizing superior waterproof tape, this product can be installed safely and securely anywhere! Simply Stick, Twist and Lock for a strong, dependable adhesion.
3. Hair Dryer Holder: Sometimes the items we use most end up making a home for themselves on our vanity counter. Keep counter space clear of clutter with the handy KROMA STICK N LOCK+ Hair Dryer Holder. Perfect for easy access at your vanity or inside a cupboard, keep your blow dryer close at hand and your bathroom tidy. With superior waterproof tape, this organizer can be installed safely and securely anywhere! Simply Stick, Twist and Lock for a strong, dependable adhesion.
4. Toilet Organization: We get it, talking toilets isn't a very glamorous subject. However, effectively organizing your toilet area, can free up space for your more glamourous products like perfumes, plush towels, and beauty products. In our opinion, you can't go wrong with the TWIST Toilet Caddy. This modern and sculptural toilet paper storage solution is made of durable steel in chrome plated or matte black powder coated finishes. Conveniently store up to 3 jumbo tissue rolls in reserve and one in use.
5. Family Shower Caddy: Sometimes, despite our best efforts our showers become overrun with shower products. This is especially true for families since everyone generally likes a different shampoo, conditioner, and body wash. While having four sets of products in a shower may seem excessive, the HiRISE 4 Tension Shower Caddy with Mirror makes organization a breeze. It is specifically designed to accommodate most tubs and showers, extending up to 9 feet. Four adjustable baskets provide plenty of storage space and feature inverted bottle holders that will ensure you use up every drop of your favorite product! A convenient shower mirror makes grooming easier and two hooks provide additional storage for all your bath and shower accessories.
Whether you share a bathroom, are a lover of products, or simply lack space, bathroom organization is an absolute must. Multi-purpose organizers allow you to consolidate multiple products into one neatly designed space while keeping everything you need on hand – it really doesn't get better (or simpler) than that!