5 Products that Will Improve the Functionality of your Bathroom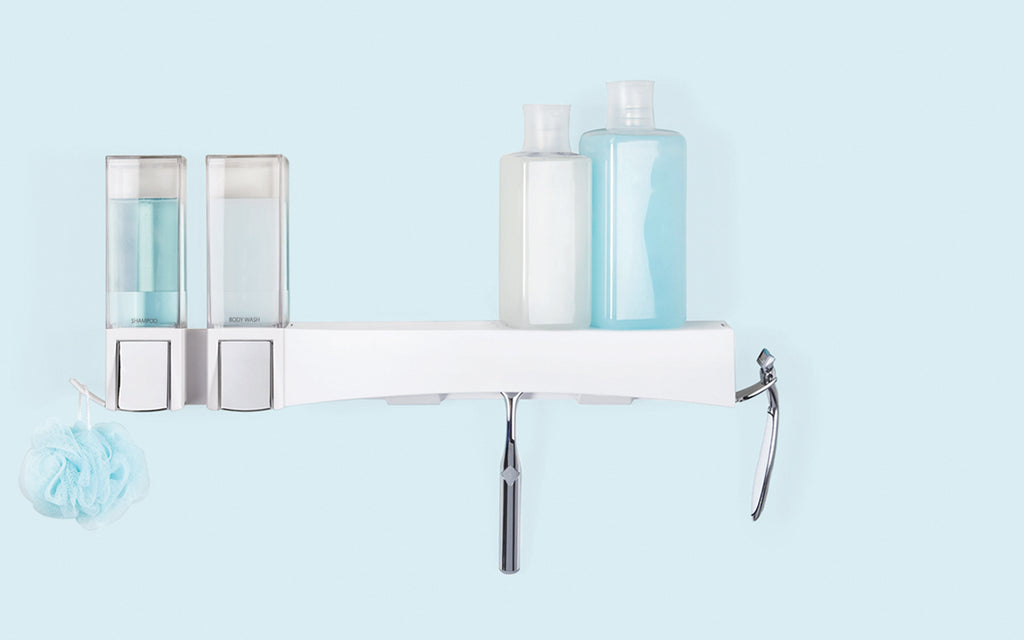 Between the shower, toilet, and vanity, we demand a lot out of our bathrooms, and oftentimes, they just aren't designed with functionality in mind. Fortunately, bathroom organization is what we do best! So, we've hand-selected five products that will make your multi-functional bathroom run a whole lot smoother.
CLEVER Dispensers + Shower Shelf:
This dynamic duo provides complete shower organization in one convenient kit. With two
CLEVER Soap Dispensers
, you can store and dispense your shampoo and conditioner with the press of a lever. The integrated shelf also neatly stores all your must-have shower products within arm's reach, so you can say goodbye to searching your shower floor for that pesky bar of soap. But wait, there's more! If your products need a bit more support than a slippery shower shelf can provide, the
CLEVER Flip Shower Shelf
flips to become a storage basket. Pretty cool, right? This all-in-one model truly has a place for everything — making shower disorganization a thing of the past!
SPA Shower Seat:
Nothing can hold up your morning routine quite like shaving your legs, especially when you don't have somewhere convenient to rest your foot. Enter, the
SPA Shower Seat
. With a maximum capacity of 265 lbs, this versatile seat can be used as a footrest for shaving your legs or as a stool while exfoliating your feet. Plus, its compact and elegant design will complement your existing bathroom décor and fit in even the smallest shower corners. Unless you're a seasoned yogi who enjoys the challenge of shaving while balancing on one leg, this shower seat is an absolute must-have!
MODERNA Extra Wide Vanity Seat:
While we're on the topic of sitting, we would be remiss if we didn't mention our top-of-the-line
MODERNA Extra Wide Vanity Seat
. Available in a crisp white or warm grey cushion fabric, you won't be able to take your eyes off the vegan leather seat or elegant chrome steel frame. Not only is this model beautiful and incredibly comfortable, but it comes with integrated storage too. The bottom wired shelf is the perfect place to store extra towels or slippers, making it much more than just a comfortable place to sit while applying your makeup. We're not exaggerating when we say this vanity seat will transform your bathroom into that of a luxury spa, with its sleek design and luxurious feel.
OVO Toilet Caddy:
Now let's not shy away from the less-than-glamourous areas of the bathroom because those areas can always use an upgrade too! Ensure you have everything you need for your next trip to the loo, with the
OVO Toilet Caddy
. If you were under the impression that all toilet caddies were created equal, you would be sorely mistaken. Available in chrome, polished nickel, or matte black, this model has everything you need for a short or long stay. It comes with a tray to set your electronic device (because we all need something to read in the bathroom) and storage for additional toilet rolls, all in one contemporary caddy. The tray even features a rubber pad specifically designed to ensure your phone doesn't accidentally take a tumble. With this handy caddy nearby, you can sit back, relax, and get down to business!
FOAMA Touchless Soap Dispenser:
Most pit stops to the bathroom end with a trip to the sink (or at least they should), so let's ensure that process is a bit smoother too. Our new
FOAMA Touchless Soap Dispenser
provides easy hands-free dispensing with multiple control settings and motion-activated sensors. Available in white or graphite, its simple yet sleek design effortlessly blends in with all décor styles. While hands-free dispensing may not save you a significant amount of time each morning, its foaming technology will save you money on refills — and who can say 'no' to that?
Whether your bathroom is tiny or supersized, a few simple swaps can make your bathroom work for you rather than against you — now let's go shopping!