5 Practical But Design-Forward Window Treatments For The Bathroom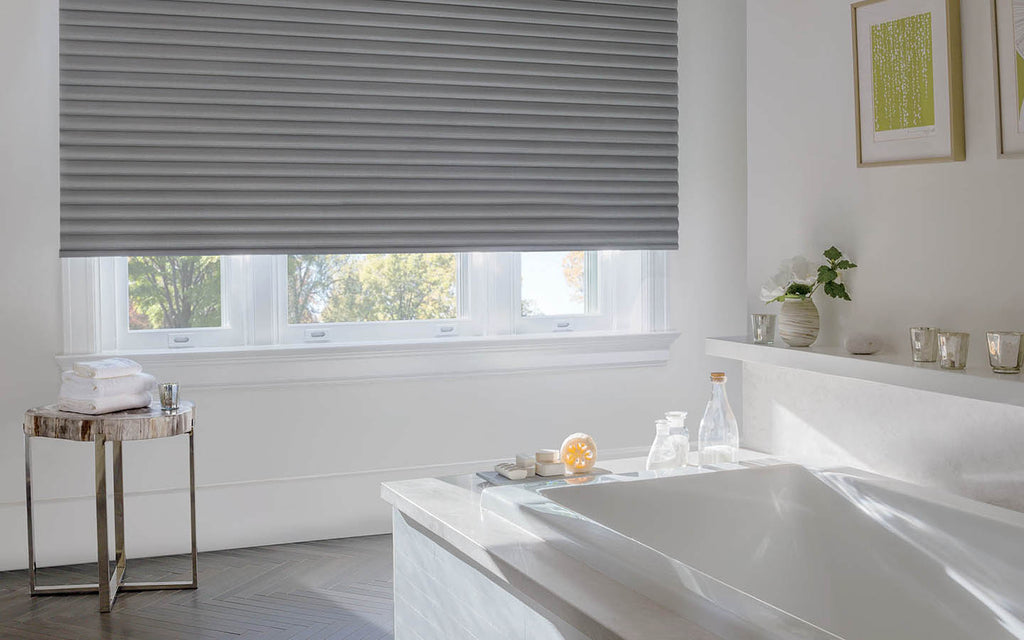 A bathroom window is both an asset and design dilemma.
On the one hand, you love what the natural light does to the look and feel of your bathroom.
On the other — privacy!
Nothing to fear, these ideas can help you achieve that balance you're looking for, while surviving those high-humidity environments.
Blinds and shutters made of faux wood or high-quality vinyl assure complete privacy without the worries of warping from humidity and moisture. Even if wood is treated or painted, the finish can break down over time and let the moisture in.
If you're seeking a moisture-proof covering that also filters in the light, cellular shades are a good bet. It's a bathroom-friendly alternative to fabric-made, pleated honeycomb blinds.
Shop window film to discover eye-catching patterns that will let in the light while guarding your privacy. Whimsical shapes, lace effects, window tints — whatever effect you want to achieve, there's a window film to help you achieve your goals.
Patterns and textures from architectural glass add sun-filtered sparkle on the inside, while maintaining privacy on the outside.
Not all window treatments need to be top-down. Bottom-half window treatments like shutters or bottom-up shades may be all you need to shield the view while still letting in lots of daylight.
Don't forget! Special details that keep function in mind can add personality to your bathroom. That's exactly what you'll find at Better Living, clever organizational solutions for the whole bath.