3 Easy DIY-Beauty Treatments to Prep Your Skin for Spring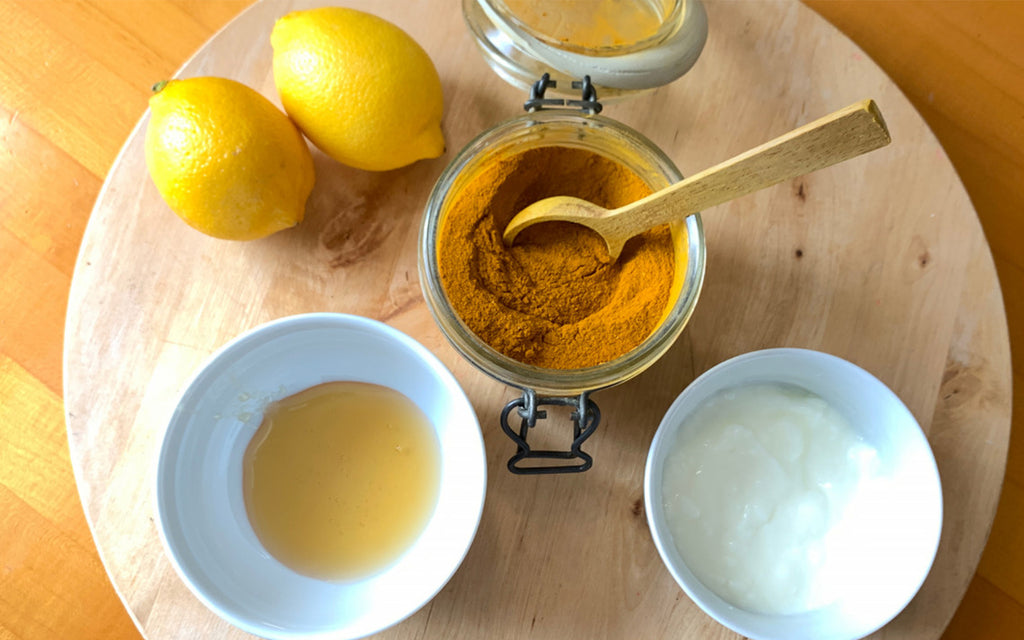 As we welcome March and the promise of Spring, it feels like the perfect time to indulge in a little self-care. Unfortunately, depending on where you are right now, it might not be possible to pop in for your favourite beauty treatment. Worry not because we are sharing three of our favourite DIY beauty treatments to get your face, lips, and armpits (yes armpits) ready for Spring! What are you waiting for? Let's get mixing!
Antioxidant Turmeric Face Mask: While most of us have only used turmeric in the kitchen, it's also a medicinal and beautifying herb with many applications outside of food. In fact, this beautifully bright spice has anti-inflammatory and antioxidant properties that soothe redness and itchiness, balance sebum secretion, and clean out your pores. While we love the skin-brightening effects of a turmeric mask (it's our favourite reason for whipping up this recipe), please be cautious in your application as it can stain your towels and clothing. So, grab an old t-shirt and facecloth, and enjoy the hydration and brightening-effects of this easy DIY treatment.
You will need 1 ½ teaspoons ground turmeric, 1 teaspoon raw organic honey, and 1 tablespoon of coconut milk (regular milk also works). Mix all the ingredients into a small bowl and stir until you have a thin paste. If your paste is looking a bit thick, just add more coconut milk. Apply your turmeric face mask to a cleansed face, leave it on for about 20-minutes and then rinse off with warm water (remember to use an old face cloth to pat dry). Don't be alarmed if at first glance you look like you got a bad fake tan, it will fade and leave your skin looking bright, youthful, and moisturized.
Sugar Lip Scrub: Despite the arrival of March, many of us are still dealing with the dry skin of winter, particularly on our dry, chapped lips. While there are countless lip scrubs on the market, you can easily make your own for a fraction of the price. This one won't cost you more than a dollar, can be made in less than five minutes, and works just as well as the store-bought options.
Here's what you need to get started: 1 teaspoon of brown sugar, 1 teaspoon of coconut oil, and 1 teaspoon of honey. Mix all the ingredients into a reusable container (so you can use it later), that's it your done. Now, simply apply the scrub to your lips in a circular motion for 1-3 minutes, and rinse with warm water. The sugar acts as an exfoliator wiping away dead skin, while the coconut oil and honey provide moisture, leaving your lips looking perfectly kissable — who doesn't want that?
Natural Deodorant: We know natural deodorant isn't for everyone, but if you already have all the ingredients on hand, it's definitely worth a shot! Personally, we can't get enough of the dreamy scent of this DIY-mix.
Here's what you'll need:
2 ½ tbsp unrefined coconut oil
2 ½ tbsp unrefined shea butter
¼ cup arrowroot starch/flour
1 ½ tbsp baking soda
6 drops of lavender and/or grapefruit essential oil
1 drop of essential tea tree oil (optional)

Once you have all of your ingredients gathered, mix your coconut oil and shea butter in a glass bowl and place it inside of a saucepan filled with water. Bring the water to a boil as you continually mix the coconut oil and shea butter until it melts together. Once melted, add the arrowroot starch, baking soda, and essential oils and mix until combined. Then, simply place in a resealable container in the fridge to cool until solid. Before you try it out, wet your armpits slightly and apply no more than a pea-sized amount. That's it, you made your own natural deodorant!

Whether you are a DIY-novice or expert, these beauty treatments can be whipped up in a matter of minutes and have you feeling fresh and hydrated for days to come. Give it a go — we know you're not doing anything else this weekend.