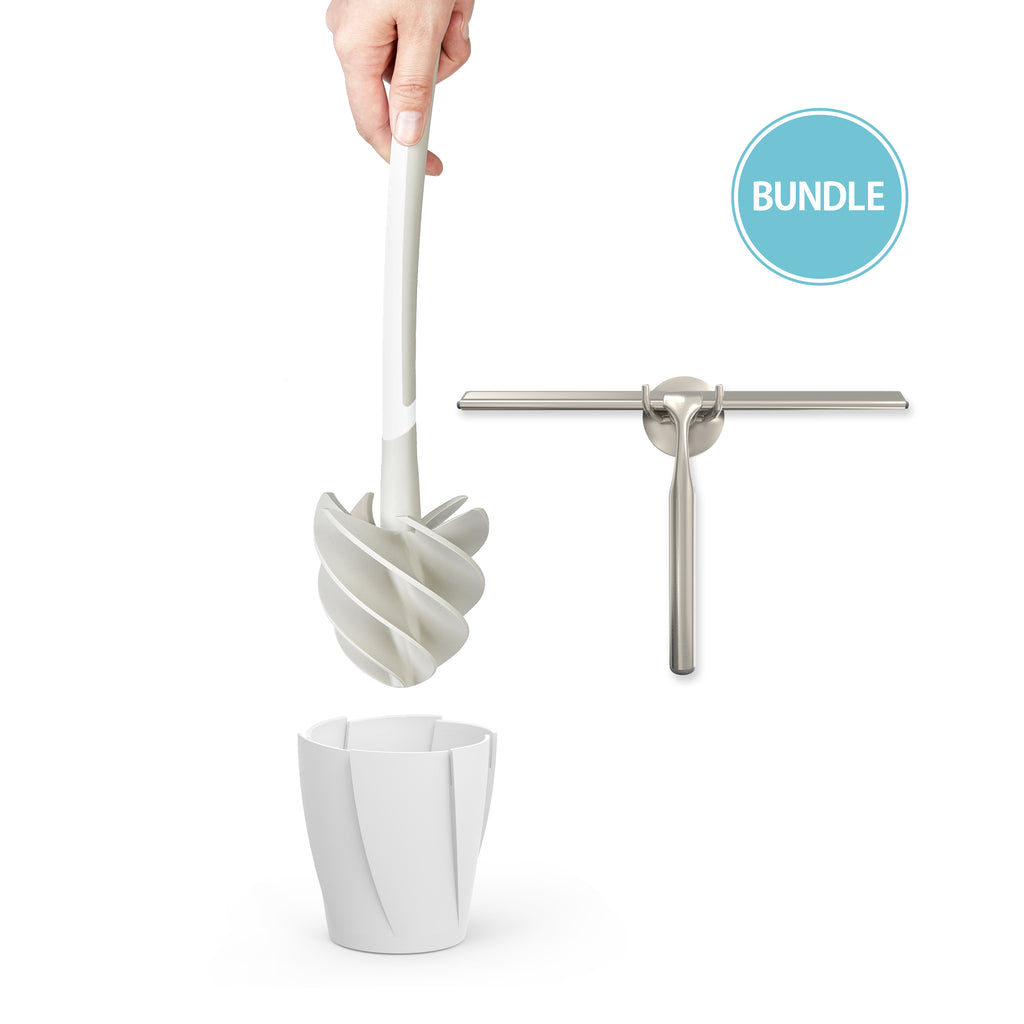 Bundle: Shower Squeegee & Toilet Squeegee
---
Bundle and save with this powerful Bathroom Cleaning duo, which includes the elegant DELUXE XL Shower Squeegee and revolutionary LOOEEZ Hygienic Toilet Squeegee. 
The DELUXE XL Shower Squeegee is perfect for eliminating water spots and soap film from glass, mirror, tile and marble surfaces. The high quality, extra wide 12- inch silicone blade leaves surfaces streak-free! With the convenient suction hook included, you can store DELUXE XL in an area of your shower that best suits your needs.
Features & Benefits
Long handle made of durable, nickel plated solid zinc cast metal with elegant brushed finish and integrated non-slip cushion grip
Stainless steel blade holder with 12" easy-glide silicone blade

Prevents build up of mildew and other bacteria, while also eliminating water spots  
Includes stylish brushed nickel suction hook for in-shower storage 
Rust and tarnish free
Dimensions (w x d x h): 12" x 1.75" x 8.5"
---
LOOEEZ is the new hygienic solution for a clean toilet bowl that also saves you time and effort. The patented six blade rubber helix head provides an easier and more effective way to clean the smooth curved surface of your bowl. Forget scrubbing, make your life a little easier and swipe your toilet clean with LOOEEZ.

Features & Benefits
Antimicrobial 
Zeomic, a safe silver-base inorganic additive inhibits the growth of bacteria and eliminates odors caused by germs
Powerful Blade Design
6 blade helix head maintains contact with bowl to quickly clean, with less effort
Quick Drying
Water repellent rubber prevents drips and bacteria build up
Long Lasting
Durable rubber outlasts a regular bristle brush, saving you money
Easy Reaching
Flexible rubber blades easily clean under the rim and other hard to reach areas

Dimensions (w x d x h): 4.37" x 4.37" x 17"
Weight: 0.96 lbs