Why You Need to Add Shaving Cream to Your Cleaning Product Arsenal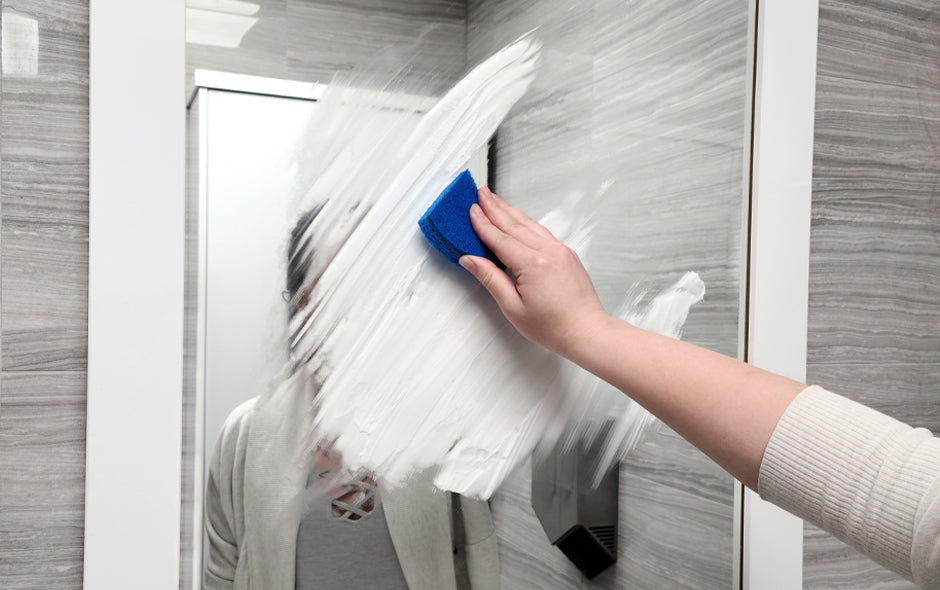 As much as we love bathrooms here at Better Living, cleaning is never quite as fun as styling and organizing them. So, when we hear of cleaning hacks or products that save us time, energy, or money we're all ears (especially when it's a product we already have on hand). Enter, foaming shaving cream. One of the most affordable, effective, and easy-to-use cleaning products we've come across. If you're not familiar with the magical cleaning capabilities of your everyday foaming shaving cream, this article is for you. From mirrors to toilets to bathmats, this unexpected cleaning superstar does it all — and will leave your legs silky smooth to boot!
Prevents Your Bathroom Mirror from Fogging Up: There are few things more relaxing than a long, hot shower but waiting for your mirror to de-fog afterward can be a nuisance, especially when you're on a time crunch. While vinegar has long since been the MVP when it comes to leaving mirrors and windows with a streak-free shine, shaving cream is quickly becoming the new star. In addition to easily wiping off those pesky toothpaste stains (thanks, kiddos), using shaving cream to clean your mirrors prevents them from fogging up during those steamy showers. It's a great way to keep your glass shower doors squeaky clean too! Simply spread a layer of foam onto the mirror or glass, wait a minute, and wipe clean with a towel to enjoy a streak-free, fog-resistant shine!
Neutralizes Toilet Odour: On days when your toilet isn't smelling particularly fresh, shaving cream can provide the quick and easy refresh you need. While we won't get into the chemistry of it, the foaming properties of shaving cream effectively destroy uric acid crystals and the odour that goes with it. Simply spray a generous amount into the toilet bowl, let it sit for 10 minutes, give it a quick scrub, and flush away all those nasty odours.
Removes Tough Fabric Stains: As if shaving cream couldn't get any more impressive, it works wonders as a stain remover too! Its magical foaming action lifts tough stains like makeup, nail polish, and even wine. So, whether you dropped an eyeshadow pallet on your bathmat or knocked over a glass of wine while relaxing in the tub, shaving cream will buff it out in no time. Just massage a bit of the foam on the stain, leave for 10 minutes, and throw it in the wash as usual.
Polishes Chrome and Stainless Steel: With caked-on grime and hard water stains, it can be hard to get your chrome fixtures to sparkle like they once did. But that's before you learned about the magical cleaning powers of shaving cream. Amazingly, in addition to all of its other cleaning properties, it's also particularly good at removing hard water stains. All you have to do is apply a thin layer of shaving cream to your chrome or stainless-steel fixtures, give it a quick wipe down, and use a microfiber cloth to buff the surface until it shines.
Eliminates Grimy Grout Lines: The foaming action of shaving cream effortlessly expands deep into grimy grout lines and leaves your tiles looking like new. Simply spray the shaving cream onto your grout lines, let sit for a few minutes, scrub with a toothbrush or dish wand, and rinse clean.
With so many uses and your choice of scent, you simply can't go wrong with a humble can of foaming shaving cream. So regardless of whether you're an avid body shaver or not, pick up a can to add to your arsenal of bathroom cleaning products —we promise you won't regret it!