How to Create Your Own Dog Washing Station with Better Living Products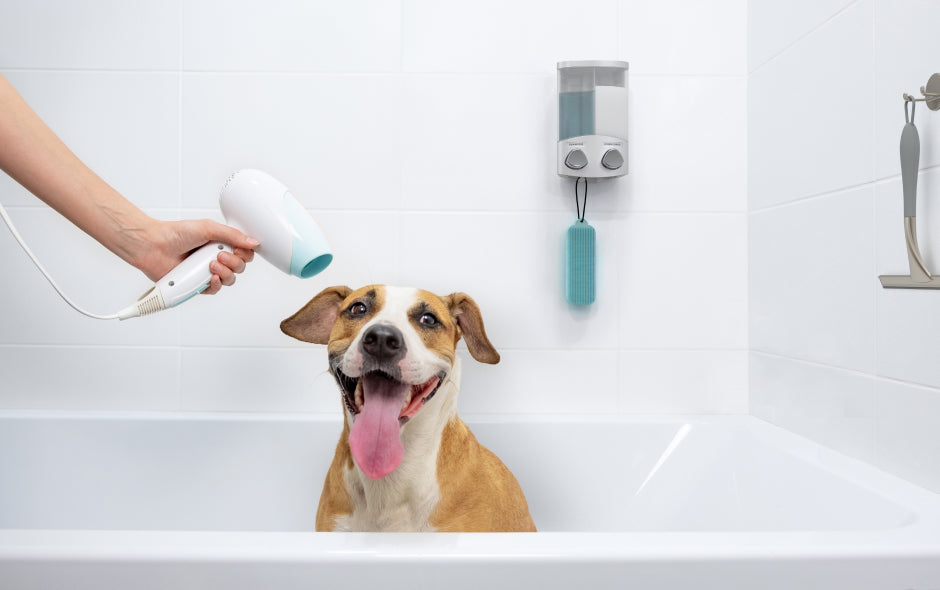 As the winter months start to wind down and the warm weather of spring makes a welcome appearance (at least in Canada's milder regions), the melting snow can make our backyards and favourite walking paths particularly muddy. And while humans may be hard-wired to avoid these sloppy messes, our canine counterparts dive right in and ultimately drag all that muck right into our homes. Now, if the thought of those dirty paws all over your floors (and let's be honest couches), makes you cringe, it might be time to create a dog washing station that makes bath time easier on everyone. With a few key products, you can easily transform your family bath into an equally effective dog washing station — keeping your pup and home a whole lot cleaner!
Make Your Dog's Products as Accessible as Possible: If you've ever tried to wrangle an uncooperative dog into the bath, you know just how important it is to get the job done quickly. To streamline the process, start by ensuring all of your dog's products are easily accessible. Now, you may think storing these products under the sink is close enough, but when your dog inevitably rolls in something that warrants a more urgent response, you'll wish everything was within arm's reach. You may want to make the added adjustment of ensuring everything can be accessed with one hand, if your dog is a particularly slippery escape artist. Otherwise, your pup might take the opportunity to jump ship while you struggle with a slippery shampoo bottle.
Fortunately, with our wall-mounted Duo Shower Dispenser, you don't have to worry about any of that. Its push-button technology provides the perfect amount of shampoo at your fingertips while accessibly storing grooming essentials like detangling brushes. And, since you can easily install it at any height, you can avoid inadvertently giving yourself a shower by placing it away from the flow of water.
Keep Your Comfort in Mind: While keeping pet products nearby is essential, it's also important to create a set-up that makes it more comfortable for yourself. Whether you currently kneel on the side of the tub or hop in the shower with your furry companion, it's probably not a very comfortable experience. But our Smart 4 Shower Bench can change all that. With its non-slip textured seat and rubber feet, it will stay firmly in place wherever you put it, so you can avoid those awkward positions and keep your knees and back happy.
Don't Forget about Drying Off: Once you've successfully washed and rinsed your pup, it's time to dry off. Although shaking off in the shower can be cleaned up with a squeegee, soaking up some of that excess water will help to reduce your post-bath clean-up. Now for those with dogs who just can't be trusted to patiently wait while you grab a towel, having one within arm's reach is key. Luckily, our Impress Double Suction Hook can be installed directly on shower tile or glass, so you don't have to leave your dog unattended. Pro tip: For particularly hairy pups, use one towel for the initial post-bath rub-down, and a second for drying.
Now, if your dog tends to get the shivers after their bath (we're looking at you chihuahuas), you may want to use a Hair Dryer Holder to keep your blow-dryer nearby too. While most large dogs are (understandably) scared off by the noise, some smaller dogs live for the steady stream of warm air. So, if you have a little one that's prone to the chills, follow up your towel dry with a blow-out — just be sure to keep an eye on the heat setting.
While creating an at-home dog washing station may not have even been on your home improvement radar, we think it absolutely should be. With the right setup (and yummy bribes) you can teach your dog to enjoy bath time, save money on grooming, and enjoy a cleaner home.