Back-to-School Bathroom Prep: Organizing Essentials for Busy Mornings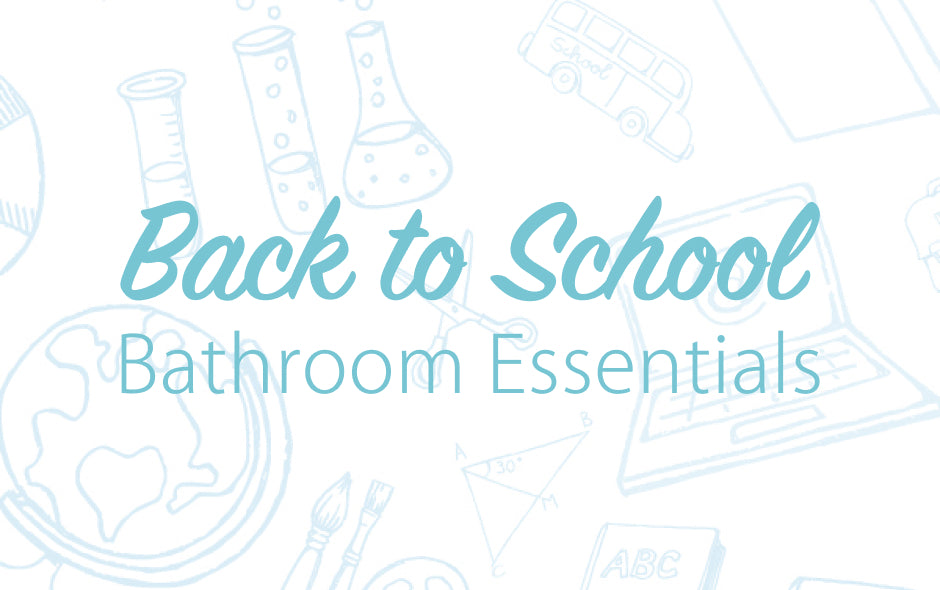 Between the annual back-to-school clothing shop (for your endlessly sprouting children), multiple school supply runs, and re-establishing some semblance of a schedule, late August demands a lot out of parents. Understandably, amidst all this back-to-school chaos, an area that can help set the tone for those busy weekday mornings often gets overlooked. We're talking about the family bathroom. And while it may seem an unnecessary task to add to your endless list of back-to-school preparations, we promise you it's not. A well-organized bathroom can transform disorganized morning chaos into smooth, stress-free mornings. So, if you want this school year to run a bit smoother than the last (or at least start out that way), we've got a few tips and organizational products that will help you do just that! 
Start with a Functional Morning Routine
"Well, well, well, look who got up on the wrong side of the bed" – said every parent that ever lived.
As annoying as the popular phrase may be, there's a reason it's stood the test of time. The way you start your day significantly impacts the rest of it. That's why we tend to spill our coffee or snag our clothes on the days we sleep through our alarms or wake up grumpy. Fortunately, the same holds true for good mornings too. So, whether you're an early riser or savour every last minute of sleep, establishing a morning routine that works for your family is the first step towards achieving smoother weekday mornings.
Of course, this will look different for every family. While some parents intentionally wake up an hour or two before their children to get organized without disruption, others value those extra hours of sleep more. Ultimately the choice is up to you and your morning routine may even change with the seasons. Take the time to figure out what works for you and do your best to stick to it, even on days when your head feels particularly glued to the pillow. As much as they may protest, routines help your children make sense of their world — so stick with it, we promise it will be worth it!
Choosing the Right Organizational Products
Regardless of the details of your morning routine, the right organizational products will serve as your trusted sidekicks — so you can make it through the morning rush with your superhero strength firmly intact.
Streamline Shower Time with Soap Dispensers: Our first (and arguably most beloved) sidekick is the CLASSIC 4 Dispenser. With push-button convenience this handy sidekick will dispense the perfect amount of product every time, eliminating spills and wasted product. The four compartments are the perfect way to store and dispense all your family's shower essentials like shampoo, conditioner, shower gel, and even hand soap. Simply select a height that suits your children and adhere to the wall with the included waterproof silicone glue and 2-way tape. Pro tip: Depending on the age of your children, use stickers or labels to help them identify their products and promote independence (while remaining nearby for bathroom safety).
Get Creative with Hanging Storage: Next up, we have the unsung heroes of bathroom organization, hooks. Yes, they're excellent for hanging towels, but their versatility knows no bounds. Our JAY 2 Hook Set can help you create a one-of-a-kind organizational system that seamlessly guides your family through their morning routine. Use the single hook to store last night's pyjamas and the double hook for their school outfit and backpack. It doesn't matter if your organization looks a bit wacky from the outside, if it eliminates morning roadblocks and streamlines your routine, we're all for it!
Labelled Storage Bins for the Win: Whether you're Type A or prefer to go with the flow, labelled storage bins will be a gamechanger for seamless school days. Create one for each of your kiddos with everything they need in the morning. This can include anything from toothbrushes and toothpaste to hairbrushes and sunscreen. These personalized bins will ensure your kids know exactly where all their essentials are and help eliminate (or at the very least reduce) a few calls for help from mom or dad.
As you embark on the inevitable back-to-school journey, don't be afraid to think outside the box. At the end of the day, your morning routine doesn't have to make sense to anyone but the ones you love most — so lean into the unconventional and create one as unique as your family.