7 Ways to Add Storage Without Sacrificing Style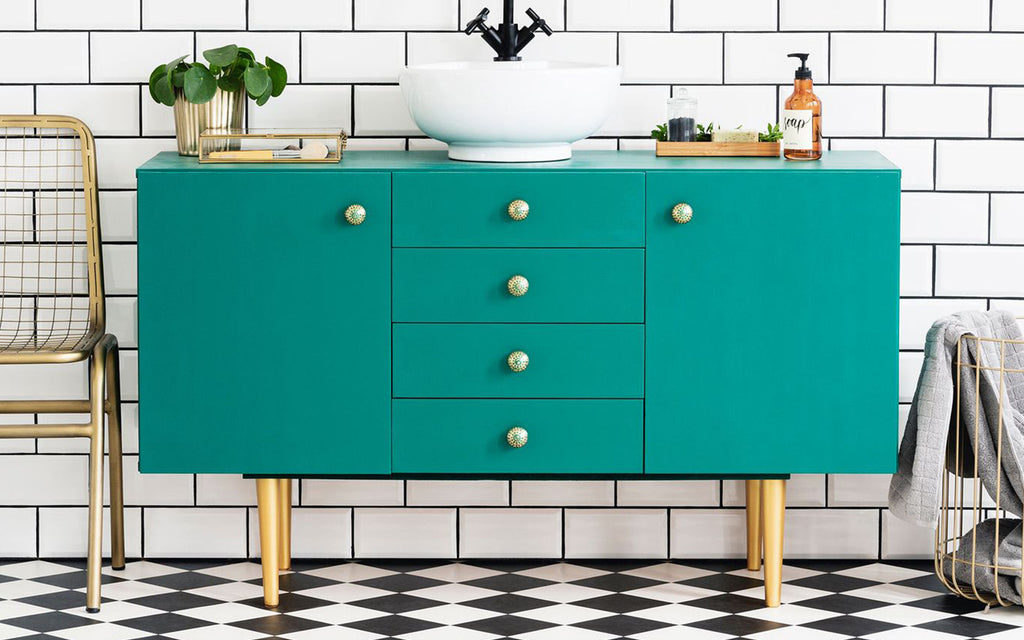 When it comes to bathroom storage, it's easy to feel trapped within the confines of traditional storage solutions like built-in cabinetry and shelving units. However, when we stick within these traditional confines, we end up with a bathroom that looks a bit like everyone else's. Of course, this isn't necessarily a bad thing, these types of storage solutions are tried and true for a reason, they work! But what if we told you that there is a way to add all the storage you need, without sacrificing your unique style? It's true, and it's easier than you might think! With a little bit of creativity (and shopping beyond the bathroom aisle), you can expertly merge style and storage to create the bathroom design of your dreams — and we've compiled a few of our favourite ideas to get you started!

Industrial Lockers: Believe it or not, no rule states that you have to buy storage solutions specifically designed for the bathroom. Think outside of the box and install some industrial-style lockers instead of your standard wall unit. We especially love this idea for large families as lockers provide a discrete way to store all your bathroom essentials while also adding an industrial edge to modern bathroom design.
Retro Furniture: If industrial modern is a bit too edgy for your taste, consider searching your local second-hand store for something with more of a retro vibe. There's nothing we love more than converting a worn-out dresser into a show-stopping vanity. All it takes is a bit of light plumbing work and some imagination!
Boho Wall Unit: For more bohemian vibes, opt for a circular rattan wall unit. They provide the perfect amount of storage while adding a bit of warmth to an otherwise cold and sterile space. Style your shelf with your prettiest skincare, décor, and a flowing houseplant for all the bohemian bathroom vibes.
Shelving Nook: If you have any unusual nooks and crannies in your bathroom, you absolutely must create a shelving nook! Whether it's in a weirdly angled corner or small space behind your door, a floor-to-ceiling shelving nook will provide invaluable storage while also adding character and visual interest to an otherwise unusable space.
Open Vanity Shelving: Although floating vanities make cleaning your bathroom floors a breeze, they tend to lack in one very important area, storage. If you have a floating vanity with ample space underneath, consider installing a floating shelf or two. Open vanity shelving provides the perfect place to display extra towels without taking away from the minimalistic design and cleaning conveniences of a floating vanity. It doesn't get any sleeker than that!
Portable Storage: Without question, the easiest and most versatile storage solution for your bathroom is a portable bathroom cart. Available in a variety of styles and colours, they provide tons of storage while also allowing you the flexibility to move your mess into a different room when you have company over. This option is also a fan favourite for those who like to do their makeup in a different room than the bathroom as all your products can move right along with you.
Baskets: Baskets are having a huge moment right now and we'd be lying if we said we weren't 100% on board with this trend. Rattan baskets are the perfect bohemian storage solution for unused corners of your bathroom. Toss in bulky items like towels or extra rolls of toilet paper and they instantly become an accessory rather than an eyesore. You can even hang knitted baskets on existing storage hooks to store your hair tools and make-up brushes — how cute is that?
Whether your style is modern, traditional, or somewhere in between, you can find storage solutions that elevate your bathroom design. All it takes is a little creative thinking and the desire to be different!