6 Bathroom Design Trends We'll Be Seeing in 2021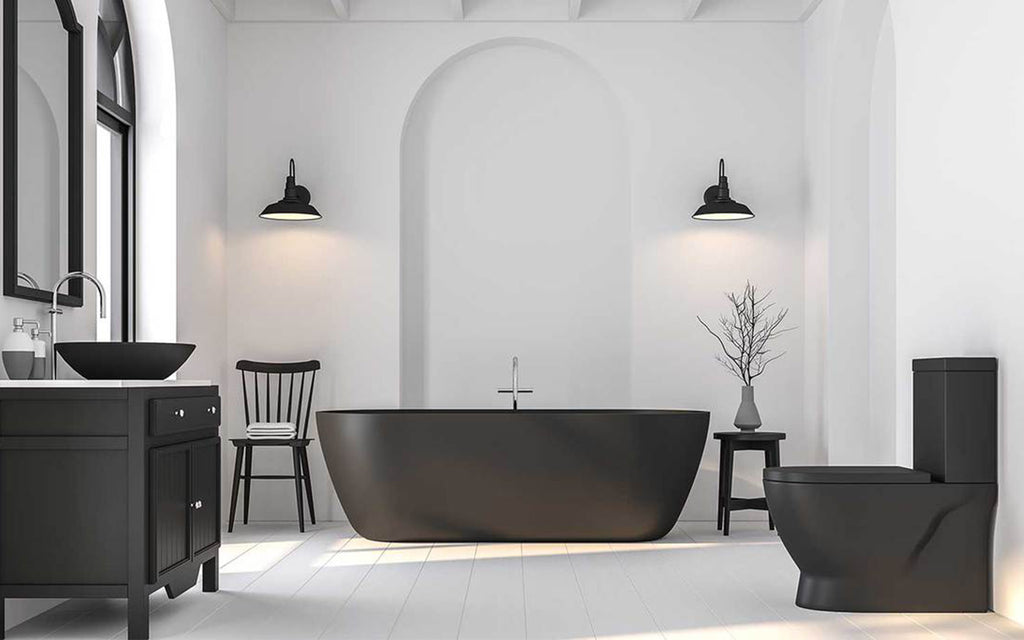 As we prepare for a new year, we often shed the things that haven't served us to make room for what is to come. This usually translates into New Year's resolutions aimed at abandoning our unhealthy habits, decluttering our spaces, and making goals for the future. Although we're not experts on home workouts or reorganizing your closet, we do know a thing or two about bathroom design. So, if part of your 2021 plan includes a bathroom renovation, we've got you covered with all the best design trends for 2021.

1) Minimalist Design: Let's be honest, 2020 has been a lot. We stayed home more than ever before, organized closets that hadn't been touched in years, and tested out our DIY skills (sometimes successfully and other times, not so much). If all this time at home has taught us anything, it's that less is more. Clutter in our space creates clutter in our minds, which is why 2021-bathroom design will focus heavily on minimalism. This design trend is all about making your bathroom as functional and elegant as possible without any unnecessary clutter. Think, clean lines, limited décor, and lots of open space. The bathroom should be a relaxing place to unwind and rinse off the stress of our day, not add to it.

2) Return of Marble: While it's no secret that marble has been a preferred material for bathrooms, it's about to become even more popular in 2021. Most renovations aimed at creating a luxurious, spa-like bathroom, will include some form of marble. The great thing about Marble is its versatility. It can be used as a show-stopping flooring option, a decadent feature wall, and even a durable countertop. Oh, and did we mention it's gorgeous in basically every pattern? You honestly cannot go wrong with marble.

3) Black Accents: Black accents are here to stay in 2021. We love the urban industrial vibes that black accents bring to a space. Simply updating your fixtures to black can have a massive impact on your bathroom. Consider replacing your vanity faucet and shower fixtures with matte black. Or go one step further and replace your shower with a black, grid-style shower enclosure and live out all your New York loft dreams – so chic!

4) Dare to be Different: Although we are very much of the opinion that you can't go wrong with white subway tile, homeowners are looking to shake things up a bit. Could it be because we've spent so much time at home, starring at our boring yet safe design choices? Perhaps – but we're not complaining. Now, this trend will look different for everyone. For risk-takers, this could be a bold, mural-style tile feature in the shower. For those of us who are more risk-averse, it could simply mean installing that fail-proof subway tile in a new pattern, like herringbone. Wherever your comfort level lies, stepping out of your comfort zone is where the true magic happens – don't be afraid to think outside the box!

5) Garden Greens: Again, this style may or may not be influenced by the immense amount of time we've spent indoors this past year, but we are here for it. Interior designers are increasingly bringing the outdoors into our bathrooms with incredible impact. Not only is the presence of nature inherently calming, but the colour green inspires feelings of harmony and peace. So, although we love a good tropical bathroom plant, simply incorporating a rich, earthy green in your bathroom design can provide similar Zen vibes.

6) Less Privacy, More Open Space: Along the same lines of the minimalism trend, this one is all about opening up space. Of course, there are certain areas of the bathroom where a door is required, but other areas can be opened up for an airy, spa-like feel. Just consider how much larger your master suite could feel with an open concept flowing into the bathroom. By eliminating a few walls and/or doors your bathroom will begin to emulate a high-end hotel design, like the ones we so desperately missed this year.

While no one can predict what this coming year will bring, if a bathroom renovation is in your future, we hope we've provided you with just a pinch of inspiration to get you started. Here's to a better, brighter, and more beautiful 2021!