5 Ways to Upgrade Your Bathtub-Shower Combo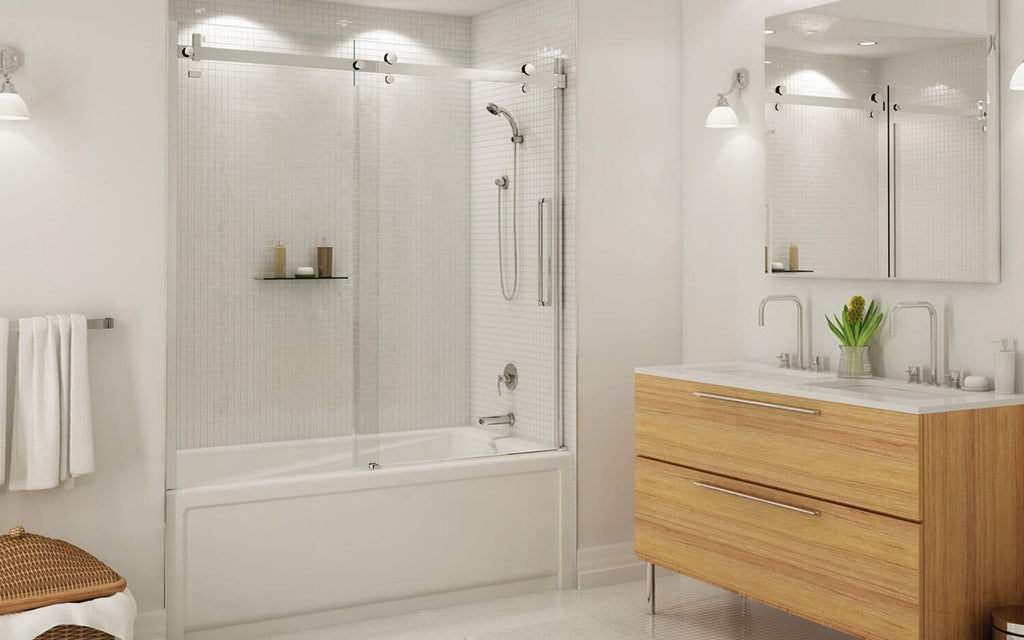 If you own a single-family home, you likely have at least one bathtub-shower combination. Although the popular fixture conveniently combines two fixtures into one, it certainly isn't the most glamorous shower option on the market – but that doesn't mean it can't be beautiful. These five upgrades will help you transform your builder-grade model into an elevated and modern design.

New Tile: If your bathtub has existing tilework, replacing it can have a massive impact. Although you truly can't go wrong with a timeless white subway tile, choosing a bold option can take your design to the next level. For those looking to stay neutral, a marble Carrera will instantly elevate the look of your bathtub-shower combo. That being said, we're also huge fans of a bold, patterned ceramic tile as it can provide much-needed colour and personality in an otherwise monotonous space. Regardless of the tile you choose, replacing outdated tile with a fresh new look will elevate the look of your bathroom without investing in a massive shower remodel.

Replace the Curtain with Glass: For more of a European feel, homeowners should consider replacing their shower curtain with a glass door. Available in a variety of styles and options, installing a glass insert will open up your entire bathroom while also bringing light into the shower. This is a great option for those looking to update their bathroom without any major renovations. All you have to do is replace your existing shower rod with new shower doors and your bathroom is instantly transformed. Our favourite design is barndoor-inspired with black hardware, but you get major bonus points if you opt for the grid-style option. Honestly, you can't go wrong with black hardware in a white bathroom – très chic!

Update Your Bathtub Surround: While you could completely pull out and replace your bathtub-shower insert, there's an easier and more cost-effective solution – cover it up. If you're comfortable with a bit of handiwork, this option can make your existing bathtub look like new without the price tag of an entirely new fixture. DIYers can inexpensively build out their bathtub surround and finish it with beadboard, wood, or even tile. It's a simple hack that packs a major punch – just make sure you select materials that can withstand a bit of moisture.

Open Up the Space: Regardless of how beautiful the design, shower curtains tend to make bathrooms feel dark and cramped, especially inside the shower. So, if you're up for a bit of a reno or DIY, consider opening up a wall to create the illusion of more space. If you have a linen closet or built-in shelving unit adjacent to the shower, open them up. By eliminating walls in favour of open shelving, your entire bathroom will feel bigger, brighter, and more spacious.

Close in the Space: Alternatively, if you have a large bathroom, consider extending the footprint of your bathtub-shower combo by creating a modern shower room. This option will require a bit of professional help but has the potential to completely transform your bathroom. The Japanese-inspired design is achieved by constructing a full glass wall a few feet away from the edge of the tub and laying tile in between. This design comes with the added option of moving the showerhead into the tiled space between the tub and glass wall – creating a separate and luxurious shower space.

Although the bathtub-shower combination gets a bad rap for being an uninspired, builder-grade option, it has the potential to be a showstopper. With a bit of imagination and handiwork, you can level up your bathtub-shower and get all the luxurious vibes of a standalone shower – at a fraction of the price!