5 Ways to Achieve the Cottagecore Aesthetic in Your Bathroom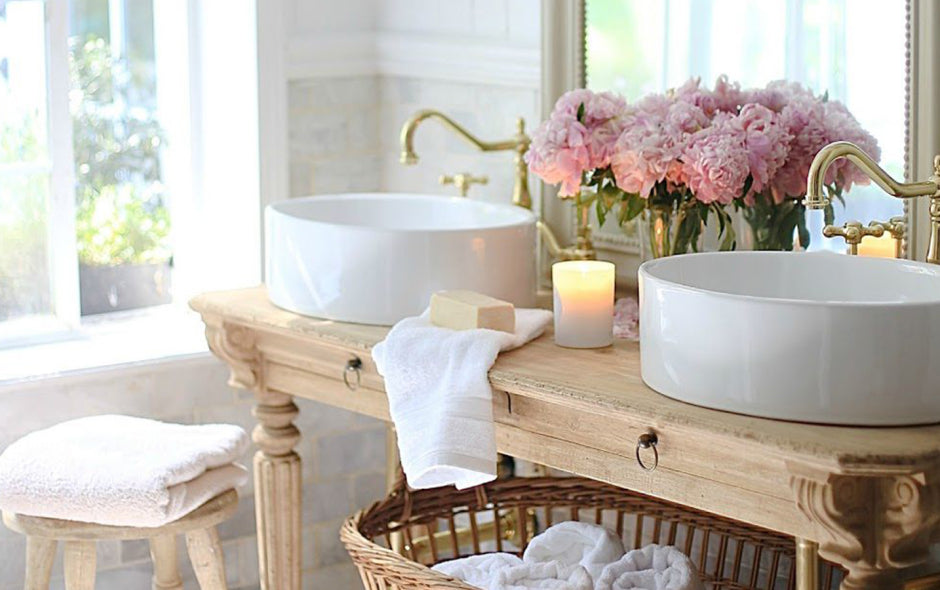 Come along with us as we take a nostalgic journey into the realm of cottagecore, where tranquility and rustic charm combine to create the storybook oasis of your dreams. As the name suggests, cottagecore is a trending aesthetic inspired by the idea of living an idyllic life in the English countryside. It embraces a harmonious way of living with nature while emphasizing the romanticism of traditional design. Think, storybook stone cottages with lush gardens and whimsical textiles.
While cottagecore has been the norm in English homes for decades, it began trending during the pandemic as a comforting form of nostalgia and escapism. At its core, cottagecore is all about creating character through a haphazard albeit quirky approach to design. At Better Living, we're all about cozy comfort, so we're sharing a few ways you can use cottagecore design to create a warm and welcoming bathroom retreat.
Natural Furnishings: Since this design trend is all about embracing a simple way of life that is in harmony with nature, you'll want to introduce natural finishings. Think soft worn in woods, stone, and ceramics. The goal is to warm up the cold and sterile nature of modern bathrooms by bringing in natural elements with warmth and texture.
While hardwood is the obvious cottagecore flooring choice, it's not exactly practical in the bathroom. Instead, opt for a wood-like flooring with more water-resistant properties or simply introduce wood accessories. Create a one-of-a-kind antique vanity with an old dresser or place a used wooden chair next to the bathtub for a more lived-in vibe. Regardless of how you choose to use it, the natural warmth of wood perfectly combines with the coolness of stone or ceramic finishes to create all the cozy cottage vibes we're going for here.
Dreamy Wallpaper: If you've ever frequented the English countryside, you'll know that no cottage is complete without a bit of wallpaper. Luckily, modern wallpaper is much more equipped to deal with bathroom humidity than its predecessors, so you'll have plenty of options. Now, if you're concerned about floral wallpaper being a bit too much for your bathroom (or personal style), we recommend installing wainscotting on the bottom half of your wall to balance it out. You can even select a dark earthy tone for your wainscoting to create contrast with a lighter floral wallpaper.
With peel-and-stick wallpaper, you have the freedom to play around with patterns and colours without the commitment of traditional plaster wallpaper, so feel free to pick something a bit outside your comfort zone. Like we always say, bathrooms are the best place to experiment with design.
Garden Greenery: Since the idyllic English countryside is at the core of this trend, your cottagecore bathroom wouldn't be complete without a bit of greenery. And we strongly encourage you to bring in as many plants as your heart desires.
Combine the romance of cascading ferns with seasonal English florals like tulips and daffodils to recreate the relaxing scent of a countryside garden while providing the storybook vibes that make cottagecore so unique. Feel free to layer in other seasonal gems like bluebells or lilacs for optimal garden vibes!
Textile Window Treatments: The English countryside and soft summer breezes go hand-in-hand, so let's use textiles to add a bit of movement. The soft movement of linen drapery blowing in the breeze of an open window instills a calmness that is hard to replicate. So, don't be afraid to kick your modern window treatments to the curb and embrace your inner granny. Remember, cottagecore charm lies in haphazard yet charming styling, where layers of textures, patterns, and prints come together to create an atmosphere that feels like a nostalgic escape.
Eclectic Accessorizing: You know that quintessentially cozy vibe you get when you walk into an old cottage? Well, that feeling has a lot to do with the eclectic, lived-in nature of an older home. Mismatched furniture, imperfect pieces, and a quirky figurine or two typically remind us of childhood visits to our grandparents' homes — and it doesn't get much more nostalgic than that. To recreate this vibe in your bathroom, head over to your local thrift store and pick out a few vintage items like a lamp, picture frame, or water pitcher (to fill with seasonal florals). You'll be surprised just how impactful a few carefully curated pieces can be, especially in a small space like your bathroom.
Whether you're a granny at heart or simply looking to romanticize your life, embracing the eclectic and cozy nature of cottagecore design will help you experience the simple joys of days gone by — making it one of our favourite design trends of the year.