5 Better Living Products that Magically Create Storage Out of Thin Air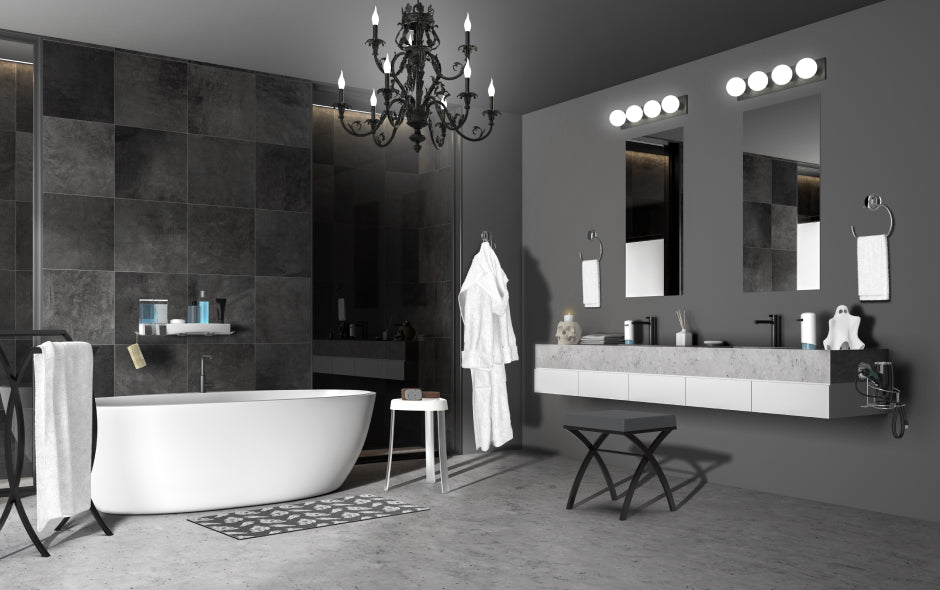 With Thanksgiving firmly behind us, we're running full speed ahead toward Halloween. For the remainder of this month, we're focusing exclusively on pumpkin carving, costumes, and all things scary, which got us wondering — do we have anything spooky to share with our readers this year? And just like magic, it came to us. There's nothing scarier than a lack of bathroom storage, especially in a spooky shared bathroom. So, with storage issues and Halloween in mind, we thought we'd share a few products that magically create storage out of thin air!
CLEVER Double Dispenser + Shower Shelf: Not to be outdone, our CLEVER model also provides an impressive amount of storage with a bit of a magical twist! In addition to two ample-sized liquid dispensers, the Clever Flip Shower Shelf morphs between a shelf and basket with a simple flip. This contemporary option proves that storage solutions can be modern, compact, and still provide all the space you need — which also seems a bit supernatural now that we come to think of it.
KROMA STICK 'N LOCK PLUS Toilet Roll or Towel Holder: Ready or not, we have another shapeshifter in our midst, the KROMA STICK 'N LOCK PLUS Toilet Roll or Towel Holder. It's a simple and incredibly easy-to-install option for extra storage beside the toilet or vanity. Simply stick, twist, and lock for a strong, dependable adhesion that can hold up to five pounds. You can choose to install it next to your vanity to hang hand towels, as a toilet roll holder, or both. It's ultimately up to you because this shapeshifting product does both!
KROMA STICK 'N LOCK PLUS Hair Dryer Holder: Nothing spooky to see here. Just a tricky way to store your hair dryer (or other hair tools). All you need is a bit of scary-strong tape (included with your purchase), and you can easily install our KROMA STICK 'N LOCK PLUS Hair Dryer Holder wherever you like. Whether you prefer your hair dryer out in the open or hidden behind closed doors, this model provides you with convenient access when you need it and safe storage when you don't.
KROMA STICK 'N LOCK PLUS Double Robe Hook: Now, our last option may be a bit basic (like your favourite pumpkin spice latte), but that doesn't make it any less useful. Our KROMA STICK 'N LOCK PLUS Double Robe Hook is the easiest way to ensure wet towels stay off the floor, so you don't have to deal with any scary odours. Simply stick it on the wall wherever those wet towels tend to gather and watch as your housemates (or children) magically find the hook — keeping your floor towel-free. Depending on who you ask, this just might be our most magical option yet!
While a disorganized bathroom might not be quite as scary as a haunted house, sometimes our reactions to clutter can be (just ask your kids). So, let's leave the scaring in the hands of professionals and use the magic of wall-mounted storage to keep our homes tidy and scare-free. Stay spooky, friends!