5 Bathroom Design Trends We're Loving Right Now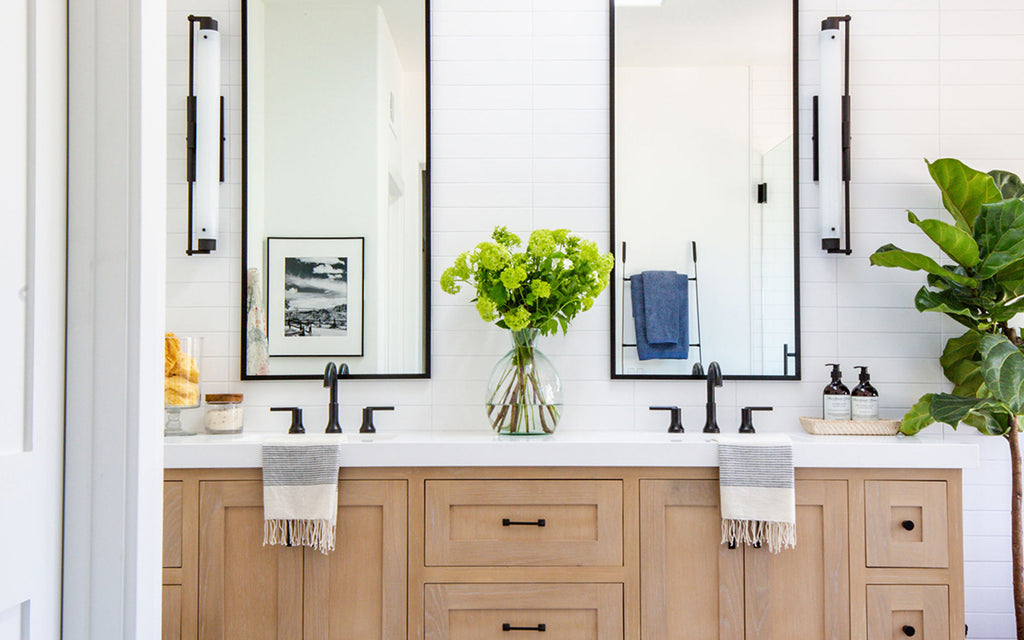 Although now may not be the best time to start a bathroom renovation, a little daydreaming never hurt anybody. Whether you've been fantasizing about redoing your main floor powder room or upping the spa-vibes in your master ensuite – we've got you. Today, we're sharing five trends that we're loving so you can daydream about better bathrooms right along with us.
Extravagant Marble: While marble bathrooms may not be groundbreaking, we're obsessing over the extravagance of floor-to-ceiling installations right now. Whether it's a full marble shower or an accented wall behind your vanity, nothing beats the elegance of floor-to-ceiling marble. If you want to make a splash in your bathroom design, go for an exotic or unique stone rather than standard marble. Think, bold veining with stark contrast for a modern, sophisticated take on a traditional design. The best part about marble? It's so stunning, that you really can't go wrong.
Adventurous Colour Choices: This year is all about bold bathroom design and adventurous colour choices. Step outside of your comfort zone and join the land of pattern, texture, and colour. Trust us, they can all be done tastefully. Try an elegantly patterned wallpaper behind the vanity or a bold tile accent wall in your shower. Just remember, a little goes a long way. As long as you make sure that your bold choices are balanced with neutrals and plenty of white space, your bathroom will radiate personality.
Black Accents: Black accents are bringing mid-century modern vibes into the twenty-first century and we are here for it. This trend goes beyond black hardware. We're talking about bold black feature walls and decadent black tile. While there's no denying that white bathrooms are having a moment right now, black accents provide the contrast that strictly white bathrooms desperately crave. The ROLLO Toilet Tissue Reserve Matte Black is a special piece that is both beautiful and functional, easily storing up to 4 jumbo toilet paper rolls. A black backdrop showcases your white fixtures in ways a monotone pallet simply can't. Plus, it pairs perfectly with shiny fixtures like brass. So, if you're looking to add a bit of modern flair to your bathroom, black is where it's at.
Spa-like Ensuites: Self-care has been a bit of a buzzword over the past year or two and right now it's more important than ever. With the current chaos and stress of everyday life, everyone deserves a little bit of 'me time'. Since our favourite spas aren't currently an option, there's no better place for that than your own bathroom. For us, nothing is more relaxing than the sound of ocean waves or the pitter-patter of raindrops on the rooftop. Emulate this vibe in your bathroom with a soft rainfall showerhead, a luxurious soaker tub, and light airy accents. We feel more relaxed just thinking about it.
Daring Powder Room Design: We've said it before and we'll say it again, the powder room is the perfect space to experiment with design. Why? Well it's pretty simple. They're small, you don't spend a ton of time in them, and it's one of the few rooms guests see when they visit your house. So, if you've been dying to experiment with a bold colour, pattern, or wallpaper, the powder room is the place to do it. It'll 'WOW' your guests and get your creative juices flowing. We can't get enough of dark, moody powder rooms, but we wouldn't say no to loud colours and geometric designs either. It's all about fulfilling your personal style, so let your freak flag fly!
Lately, daydreaming has become one of our favourite pastimes. It's a fun way to briefly escape from reality and live out all of our over-the-top design dreams. Whether it's top of the line marble or funky neon tile, dreaming up your favourite designs is good for the soul – and it doesn't cost a thing!