4 Products That Add Flair and Function to Your Bathroom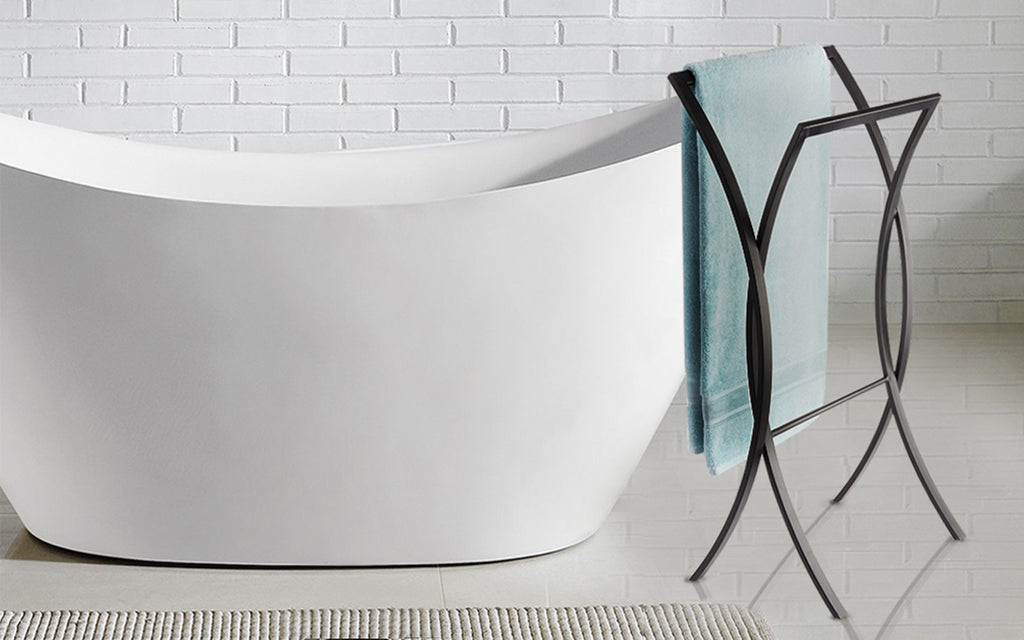 Household kitchens may get all of the glory for hosting parties and feeding the family, but family bathrooms are certainly the unsung heroes of our households. They must deal with frequent bathers and even more frequent trips to the loo, while also providing a serene space for relaxation. That's quite the job description. With such varied roles, it's easy to see why many of us struggle with how to blend flair and function in our bathroom design. Fortunately, these four products cater to both needs so that your bathroom can perform all of its tasks with functionality and beauty.
1. Toilet Caddy: Aside from installing a trap door that opens up and hides away your toilet, the ways you can 'style' your toilet are limited, to say the least. Since actually hiding your toilet may be a tad inconvenient for your guests, the next best thing you can do is to make it as visually pleasing and functional as possible. Hands down, the best way to achieve that is with a toilet caddy. For those who want one that effortlessly blends in with their white décor, we love the ROLLO Toilet Tissue Reserve Folia. Its contemporary asymmetric design holds up to four rolls of toilet paper and is made of durable sheet steel, which means it will last for years to come. Alternatively, if you're looking for a toilet caddy that does a little bit of everything, our classic TOILET CADDY is the one for you. This multifunctional caddy stores and dispenses toilet paper and also has a magazine (or iPad) rack so that your family has everything they need could ever need right at their fingertips.
2. Vanity Seating: While not everyone is fortunate enough to have a designated makeup vanity in their bathroom, for those who do it's the perfect spot to add a bit of flair. We don't like to play favourites, but our TWIST Vanity Seat is well, one of our favourites. Its grey faux-leather upholstered seat and sculptural matte-black frame marry design and function seamlessly, making it the perfect addition to nearly any bathroom.
3. Towel Stand: Every bathroom needs towels, but not every bathroom needs to hang them in the same place. While it's a design reflex to install a basic towel rack on a bathroom wall, that's not always the best choice. This is especially true if the wall isn't within arm's reach of your shower or bath. Speaking from experience, no one enjoys the dripping-wet bathmat boogie across the bathroom to the towel rack. The closer the better, which is why you need our ONDA Towel Stand. Its freestanding modern design can be placed and moved wherever it's needed. Plus, it's compact enough to fit in even the smallest of bathrooms. No longer will you be leaving a trail of water between the wall-mounted rack and your shower and that's something everyone can appreciate.
4. Vanity Valet: There's no better place in your bathroom to join function and flair than the vanity. In most bathrooms, the vanity is prime real estate for products that were never put back in their proper place. While bathroom storage solutions provide hidden places to store your products, some items need to be out in the open. Whether they are products we use most often or things we forget to use unless they are right in front of our faces (we're looking at you, floss), some products aren't suited for life in a drawer. So, what's the next best solution? To aesthetically display them on the counter and the best way to do that is with a stylish vanity valet. Our HANDI Vanity Valet has two divided organizers which provide plenty of storage for your most used or forgettable items. This elegant multifunctional valet can be the home of oral health and hold toothbrushes, toothpaste, and that pesky floss. Or, it can be used as a makeup valet that holds frequently used products, applicator brushes, and dispenses your favourite makeup remover.
With these four products, your bathroom will be one step closer to being the utilitarian, serene, and beautiful space you've always wanted it to be. Just don't forget to thank it for all of its multifaceted efforts.