4 Inexpensive Bathroom Improvements That Make A Big Difference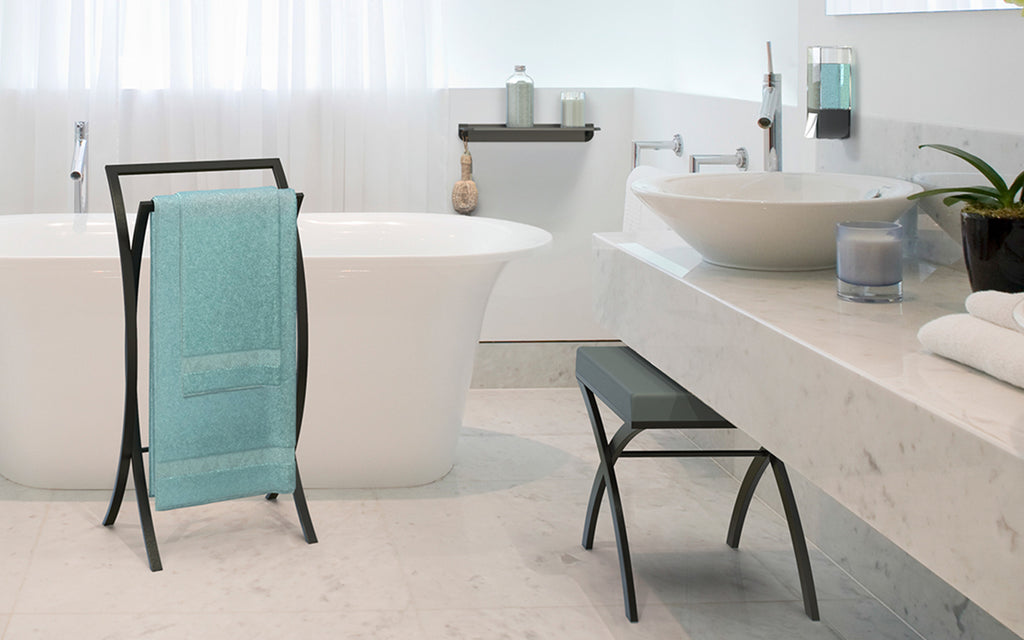 Even with March right around the corner, most of us are knee-deep in snow and spending more time than ever inside. That means we have a lot of time on our hands to ruminate over our home décor choices and envision a brighter future. So, if you're getting the itch to renovate but don't quite have the funds for an entire bathroom overhaul, we've got you covered. These inexpensive improvements can massively impact your bathroom design, without the headache or investment of a full-on renovation.
1. Modern Storage Solutions: Storage is a buzzword when it comes to bathroom design and for good reason. A lack of storage can quickly ruin the vibe of any bathroom, even one that's been freshly renovated. So, if your bathroom is feeling a bit cluttered consider adding some modern storage solutions. To maximize space in the shower, you can't go wrong with a sleek, multifunctional shower caddy like our CLEVER Double Dispenser + Shower Shelf. Available in black and white, it provides a stylish home for your most-used shower products. For bigger items, such as towels and beauty products why not consider a stylish ladder shelf? The sleek design provides all the storage space you need while packing a serious design punch. When in doubt, go for storage – it'll never steer you wrong.
2. Create the Illusion of More Space with Light: Mirrors are the magicians of home design. They create light virtually anywhere you place them, which makes them the perfect addition to a small, dark bathroom. While the layout of your bathroom may restrict where you can hang a new mirror, placing it directly opposite a window (if possible) will make the biggest impact. When positioned this way, the light from the window reflects off the mirror and floods the space with light. It's so effective, it can make it feel as though you had a new window installed, but at a very small fraction of the cost!
3. Install New Fixtures: Don't worry, we're not talking about expensive fixtures like your toilet, sink, and tub (although that would obviously make a massive design impact). We're talking about the smaller fixtures that can be inexpensively replaced. Take a look around your bathroom and make note of some of the fixtures that you've never even thought to replace. Do you have one of those wall-mounted towel racks that comes standard in every home? Perfect. Let's change that. Consider replacing it with a freestanding towel rack like the SETTE Double Towel Stand or ONDA Towel Stand. Both provide a sleek way to hang your towels while also freeing up valuable wall space that could be used for that mirror we just talked about! Don't you just love it when things work out?
4. Get Creative with Your Décor: New accessories and décor can massively impact the design of your bathroom. This can be as simple as changing up your accent colour by bringing in a new bathmat and towels. Or, you can go one step further and replace items that are unintentionally tarnishing your bathroom aesthetic such as the toilet roll holder and robe hooks. For those who want the full bathroom accessory overhaul, choose your replacements with a unified style. For example, try pairing our chrome KROMA STICK N LOCK+ Double Robe Hook with our OVO Toilet Caddy for a clean and modern look. Remember, a little coordination goes a long way.
Although no design trick will emulate the full aesthetic of a renovation, these four improvements can make your space feel a bit more current while you save up for the bathroom of your dreams.