4 Emerging Design Trends We Can't Wait to See in 2023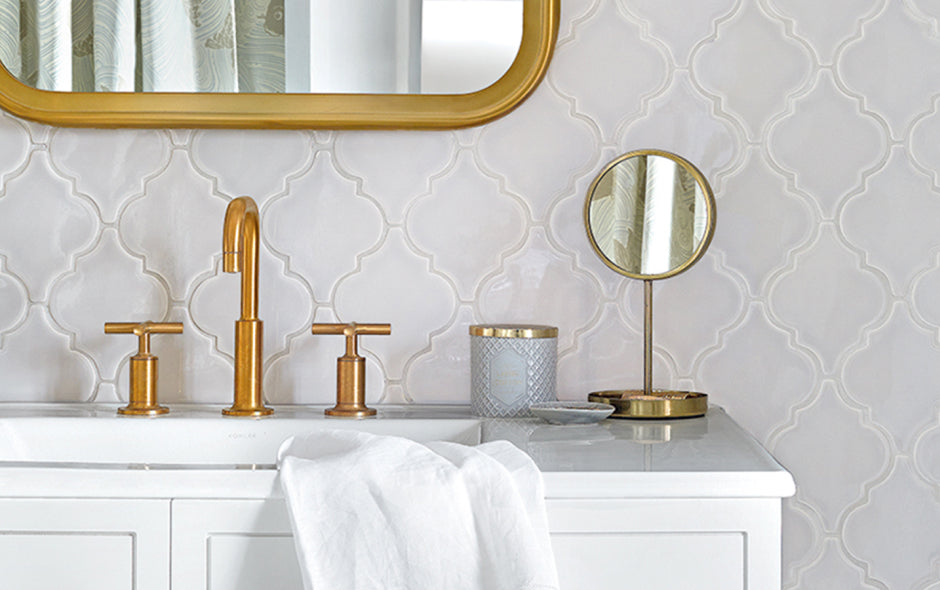 Move over all-white everything, 2023 is on its way and bringing with it a renewed appreciation for warmth, wellness, and thoughtful bathroom design. And although some interior design trends come and go, we predict that the long overdue transition from clean and clinical to warm and welcoming is here to stay. Why? Well, as we've spent more time at home over the past few years, many of us have realized the importance of designing our homes to suit the unique needs of our family (rather than an aesthetic). Just as our homes unexpectedly needed to serve as our offices, schools, and gyms, our bathrooms had to serve as our personal wellness retreats. Unfortunately, all-white everything doesn't exactly scream relaxation. So, as we continue to spend more time at home (thanks to remote and hybrid work), designers are heading into the new year with a focus on character, comfort, and convenience — and we're sharing a few trends that will ensure your bathroom is jam-packed with each and every one.
Lived-In Layers: Gone are the days of cold and sterile bathrooms. In their place, we'll be seeing warm, cozy spaces that invite you to stay awhile. To replicate this trend in your bathroom, you'll want to focus on layering different styles and textures. So, instead of buying a new chair to style next to your bathtub, pick up an antique one for a more lived-in vibe. Keep the same in mind when selecting your textiles. Rather than buying a bathmat that matches your towels, head on over to the rug aisle for an eclectic alternative. The main goal of this trend is to mix the old and the new, to create the feeling of an established home that's acquired furniture and textiles over the years. Feel free to get as creative as you like here. Mix and match fixtures, bring in warm woods and textiles, and resist the urge to buy any whiter accessories — trust us, you have enough!
Two is Better than One: In 2023, you'll also notice an increase in separate spaces in the bathroom, well beyond your typical dual vanities. Luxury designers are installing dual shower heads, detached dual vanities, separate walk-in closets, and in extreme cases two water closets. Although this trend does require significant square footage (and a healthy budget), you can implement the trend on a smaller scale by focusing on privacy. If you have the space, create a water closet to start. From there, determine whether you can reconfigure your footprint to accommodate separate vanities. Often, homeowners have a large soaker tub that takes up prime bathroom real estate and is rarely used. So, get rid of what doesn't work for you to create space for what does. Because, although we love our partners, there are times when a bit of privacy goes a long way.
Personal Wellness Retreats: With the recent emphasis on self-care, it's no surprise that homeowners want to create their own wellness retreat at home. Depending on your preferences, this can include anything from steam showers and ornate tiles to fluffy, high-end towels and robes. The underlying goal of this trend is to replicate the opulence (and comfort) of luxury hotels and spas. That means going bold, splurging on the elements that are important to you, and prioritizing a relaxing atmosphere.
Inspired by the 70s: We saved our absolute favourite trend for last, the resurgence of 70s design. For those unfamiliar with this era, 70s design focuses on low-profile furniture, earthy tones with unexpected pops of colour, and plenty of raw materials. Now, before you go full retro, this 70s rebirth demands carefully curated selections rather than complete replication. So, instead of bringing back the infamous 70s orange hues, consider a more subtle approach. Bring in curvy, low-slung furniture, plenty of natural materials (like stone and wood), and accessorize with earthy accents like plants and mushroom-inspired décor. The overall vibe we're going for is warmth and relaxation with a splash of sexy sophistication.
Whether you're planning a bathroom renovation or simply looking to update an existing one, it never hurts to be ahead of the curve. But before you move forward with any new trend, remember that it's your home and you can design it any way you choose.